Trailer Hitch Installation How-To - Chapter 6

Trailer Hitch Installation How-To
8 Easy-to-Follow Steps
Installing a trailer hitch is a relatively easy automotive job. A typical receiver hitch installation may involve some of the following steps: removing the spare tire, lowering the exhaust, removing existing vehicle hardware, lifting the hitch into position and torqueing the hitch hardware to the correct values.
CURT hitches are especially easy to install because most are no-drill and require only a few simple hand tools. If you'd prefer to take your vehicle in for professional installation, CURT also has a complete network of dealers and installers.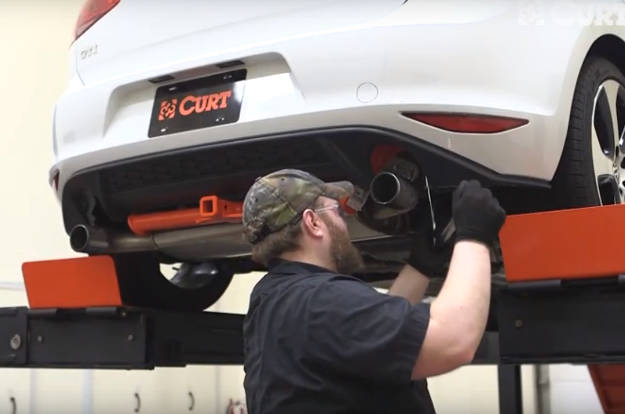 Can I Install a Hitch Myself?
Yes, you can install a trailer hitch by yourself as long as you have the right tools for the job. DIY hitch installation is a great way to save money on the trailer hitch installation cost.
CURT custom hitches are engineered to make installation as easy and as minimally invasive as possible. Most CURT hitches can be installed with common hand tools, right in your own garage.
Find a hitch for my vehicle
How to Install a Hitch: Step by Step
Step 1: Read the instructions
The first step to installing a trailer hitch receiver is to read the instructions. Familiarizing yourself with the steps involved in the installation will give you confidence in your work and will help you determine if you're up to the task.
You can find the installation instructions for each hitch using the CURT Installation Sheet Finder or on the number page. We also recommend checking out our installation video library on YouTube.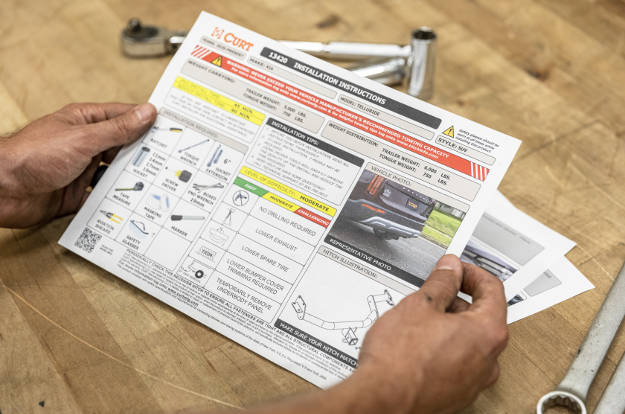 Example Receiver Hitch Installation Video:
Towing Tip!
Before purchasing a hitch, look up the installation instruction sheet or installation video online for the hitch you are considering, and then decide if it is something you can handle on your own or if you will need to bring it to a professional installer.
Step 2: Gather your tools
Before you begin, set aside the tools necessary for the tow hitch installation. These may be different depending on your specific hitch, but in general, a hitch installation only requires some basic tools found in the average do-it-yourselfer's tool box.
The following are some of the tools used during the installation of a trailer hitch: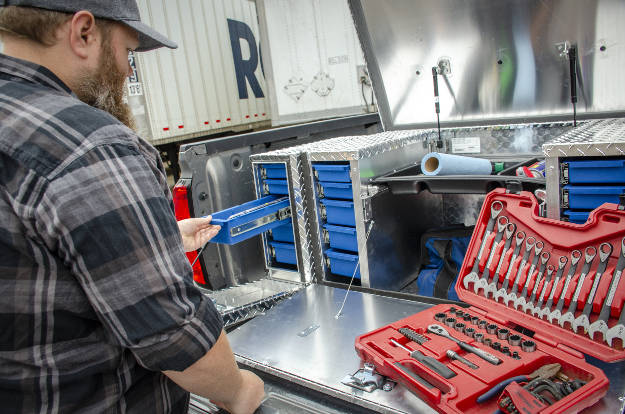 Tools commonly used in hitch install: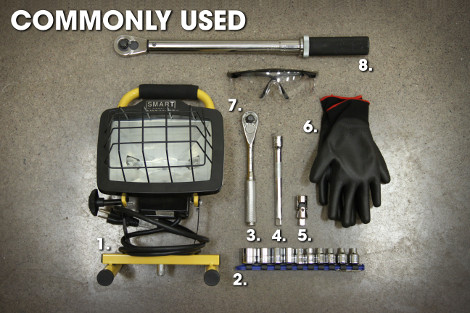 1. Shop light
2. Socket set
3. Ratchet
4. Ratchet extension
5. Swivel socket
6. Work gloves
7. Safety glasses
8. Torque wrench
Tools occasionally used in hitch install: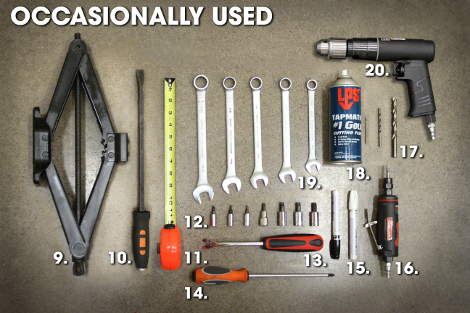 9. Jack and stands
10. Pry bar
11. Tape measure
12. Torx bits
13. Trim tool
14. Screw driver
15. Paint pen
16. Die grinder
17. Carbide drill bits
18. Cutting lubricant
19. Box wrench set
20. Power drill
Tools rarely used in hitch install: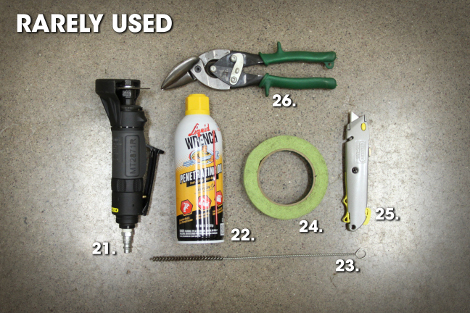 21. Rotary cutting tool
22. Penetrating lubricant
23. Rat tail wire brush
24. Masking tape
25. Utility knife
26. Metal sheers
Step 3: Chock your wheels and jack up your vehicle
Next, you will need to place wheel chocks on your front wheels. You may also need to jack up your vehicle, depending on your particular hitch and work space.
Jacking up the vehicle is not necessary for most hitch installations, but it does provide extra space underneath the vehicle to work. Make sure the emergency brake is activated, that your vehicle is at a safe height and that you use jack stands to ensure the vehicle is properly stabilized.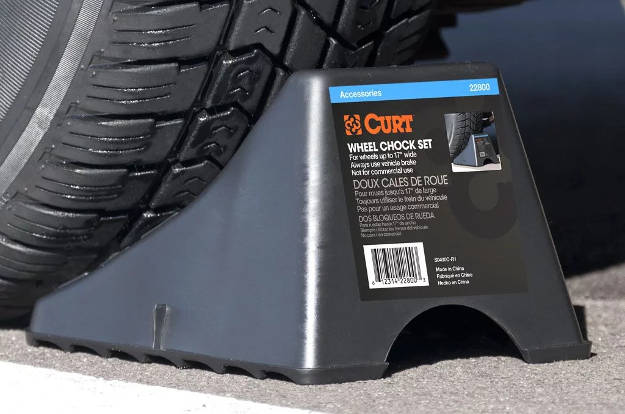 Step 4: Set up a work light
It always helps to have extra light when working underneath the vehicle, and it will help when referencing the installation instructions during the install. Position the light so that it illuminates your work space without obstructing what you're doing.
At this time, you can familiarize yourself with the various bolts, holes and other components you will be accessing during the installation.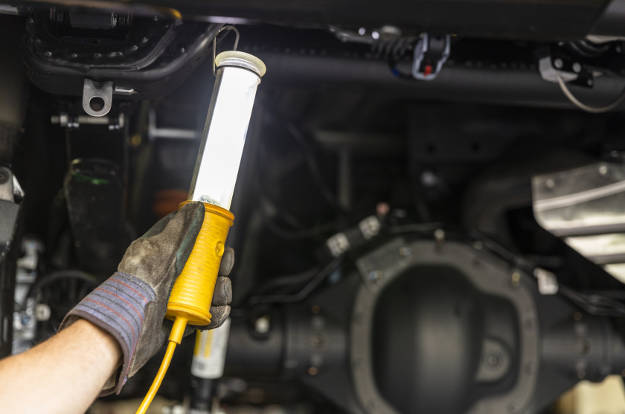 Step 5: Remove the spare tire, if necessary
On some receiver hitch installations, the rear spare tire stored underneath the vehicle will be in your way as you install the hitch. If specified in the instructions, remove it and set it aside.
This may also be the time to lower the exhaust. A small number of CURT trailer hitches require the tailpipe and part of the exhaust assembly to be lowered during the installation.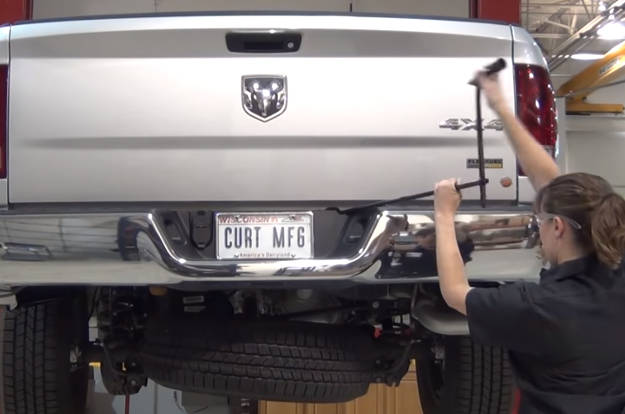 Step 6: Remove bolts, plugs, etc., as specified
Some trailer hitch installations require certain bolts and rubber plugs to be removed to make way for mounting the hitch frame. Others require small panels or a heat shield to be removed or trimmed. Still others may require drilling into the frame.
For some hitch installations, the existing vehicle hardware may be used to bolt the hitch into place. Whatever the case for you particular hitch, all necessary hardware will be included for a complete installation.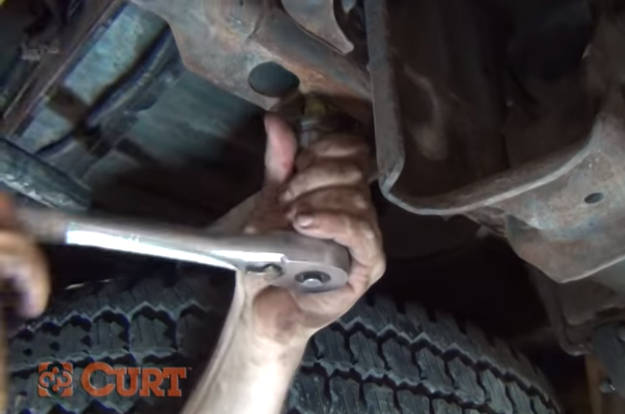 Step 7: Position the hitch and attach hardware
With your vehicle and hardware prepared, you can move the hitch into position. You may need assistance at this point as trailer hitches can weigh up to 50 lbs. or more.
For the hardware, typically you will only need to tighten the nuts and bolts enough to hold the hitch in place. Once all bolts are attached and hand-tightened, you can move on to torqueing.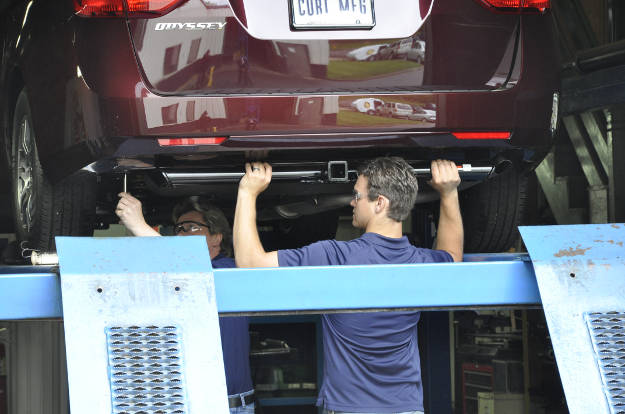 Step 8: Fully tighten the bolts
When all of the bolts are in place, torque them to the values specified in the installation instruction. The amount of torque required various by the size of bolts. Some hitches only require around 100 foot-pounds of torque, while others require 150 foot-pounds or more. Make sure you have the proper tool to safely torque your hitch into place.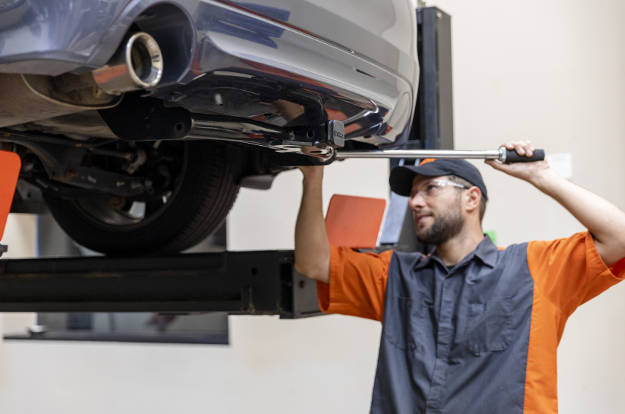 ---
Trailer Hitch Installation Techniques Video
For a helpful guide to completing the steps above, our Trailer Hitch Installation Techniques video walks through some of the more challenging steps in a receiver hitch installation.
Be sure to check the instructions or installation video for your specific hitch to see which specific steps are needed.
Towing Tip!
If your hitch installation requires you to feed bolts in through a hollow frame and you accidentally lose a bolt inside, getting it out can be extremely tedious. However, it CAN be done. Insert a telescoping magnet in through the hole, and lure the bolt to the hole until you can pull it out.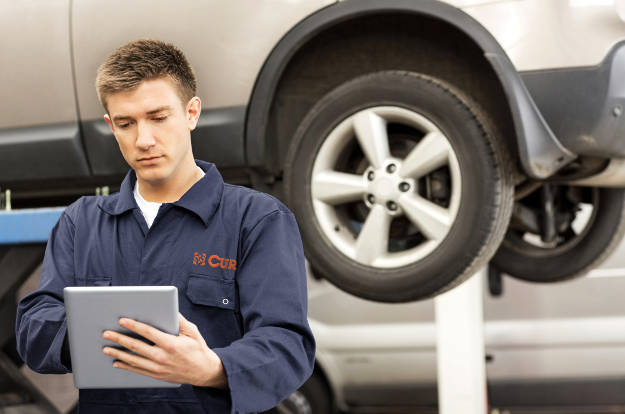 Trailer Hitch Installation Near Me
If you'd prefer a professional touch and you're looking for where to get a trailer hitch installed, the CURT Where to Buy page provides a complete list of local dealers and installers. Simply put in your address.
You can browse installers by distance and service level, view their address and phone number, navigate a live map and get directions from any address.
---
Towing 101 Table of Contents