How to Select the Best Trailer Hitch for Your Vehicle
Finding a Hitch in 4 Simple Steps
Choosing the best trailer hitch for your vehicle is actually simpler than you might think. This is because most hitches are made vehicle-specific, allowing you to use your year, make, model and style to find the exact hitch needed.
After that, it's a matter of choosing the right receiver size and look to complement your lifestyle.
In this guide, we'll walk through the steps involved in finding the best trailer hitch receiver for your vehicle.
---
Step 1: Look up your vehicle
Begin by looking up your vehicle in our Select Your Vehicle tool near the top of the page. Enter the year, make, model and sub-model, if needed.
For almost every vehicle on the road today, CURT offers a unique trailer hitch design. A custom fit ensures easier installation, maximum towing capacity and optimal look and integration with the spare tire and other vehicle design features.
A. Enter your vehicle
Look up your vehicle by the year, make, model and sub model.
B. View all parts
Tap the View Products button to see everything that fits your vehicle.
C. Compare your options
On the results page, tap a specific hitch or other part to see details.
---
Step 2: Select a hitch class
After entering the year, make and model, you will be able to view the trailer hitch or trailer hitches that are specifically tailored for your vehicle. Other custom towing equipment may be shown as well.
Some vehicles may have more than one option to choose from. In this case, it is helpful to understand that trailer hitch receivers are divided into five different classes. What class of trailer hitch is best suited? Watch the video for some guidance, and check out our Trailer Hitch Classes guide for a complete explanation.
Trailer Hitch Capacities by Vehicle Chart
Class 1
up to 2,000 lbs. GTW
Class 2
up to 3,500 lbs. GTW
Class 3
3,500 lbs.
to 12,000 lbs. GTW
Class 4
8,000 lbs.
to 14,000 lbs. GTW
Class 5
16,000 lbs.
to 20,000 lbs. GTW

Subcompact & Compact Cars

Full-Size Cars & Sedans

Crossovers (CUV)

Minivans

1/4-Ton Trucks & SUVs

1/2-Ton Trucks & SUVs

3/4-Ton Trucks

1-Ton Trucks & Flatbeds
---
Towing Tip!
In general, 2WD vehicles have a higher towing capacity than comparable AWD and 4WD vehicles. This is because 4WD models are several hundred pounds heavier than equivalent 2WD models, having a transfer case, extra drive shaft and extra axle.
---
Step 3: Maximize your vehicle's potential
What size hitch do I need? If multiple trailer hitches are compatible with your vehicle, it can be helpful to consider what and how often you'll be towing.
If you're planning to frequently tow heavier trailers, you should maximize your towing potential with a higher-rated hitch and larger hitch receiver. If you'll only be towing light-duty trailers or using the hitch receiver for cargo management with a bike rack or cargo carrier, a smaller trailer hitch may be sufficient.
Note: Always abide by the lowest-rated towing component, including the vehicle.
Also consider how a hitch will look on your vehicle
Vehicle aesthetics should be considered when buying a trailer hitch. For example, you probably don't want the look of your sporty SUV tainted by a big, square hitch body sticking out.
CURT offers options for concealed and exposed hitches. A concealed hitch means that the main body is hidden up underneath the vehicle, providing a more factory look and feel. Only the receiver tube is seen. For some vehicles, such as work trucks and utility vehicles, hiding the hitch is less important.
Additionally, some CURT tow hitches are available with a round tube body versus square tube body. If the hitch body is exposed, a round body hitch will provide a sleeker look.
---
Step 4: Add accessories to your trailer hitch
A hitch receiver is just a receiver. It doesn't provide a direct connection to a trailer.
As such, after you've selected a hitch for your vehicle, you will need to purchase some hitch accessories, such as a ball mount, trailer ball, hitch lock and wiring harness.
You can find a complete towing equipment checklist here.
---
Best Hitches by Vehicle Type
Remember, towing capacity is always limited by the lowest-rated towing component.
Best car hitch
The best tow hitch for a car is a class 1 or 2 receiver hitch. Some cars are able to tow a trailer, but many are not. More often, car hitches are used to attach a cargo carrier or bike rack to increase cargo capacity.
The best car hitch is one that's customized to fit the car's frame and design features. CURT offers vehicle-specific car hitches for most makes and models on the road today.
Best crossover hitch
The best crossover hitch is a class 1, class 2 or class 3 receiver hitch, depending on the vehicle platform. Many crossover vehicles are capable of towing a trailer, but some should only be used to pull a cargo carrier or bike rack for some extra storage space.
To find the right crossover hitch, start by looking up the year, make and model. Select from the provided options, based on your preferences and the capacity of your CUV.
Best van hitch
For minivans, the best tow hitch is a class 2 or class 3, providing a connection point for towing a trailer or attaching a cargo or bike carrier. For full-size vans, the ideal hitch is more likely a class 4 or class 5.
Minivan hitches come with a 1-1/4-inch or 2-inch receiver and are made vehicle-specific to integrate with the vehicle's frame and bumper.
Look up your van by year, make and model to find the right van hitch.
Best Jeep hitch
For Jeeps, particularly the Jeep Wrangler and Jeep Gladiator, the best hitch is a class 3 receiver hitch. As an offroad 4x4, most Jeeps are well-suited for towing, depending on their towing capacity. A class 3 hitch provides a standard 2-inch x 2-inch receiver and a versatile weight rating.
Select a Jeep hitch by looking up your year, make and model. Then, choose from the list of vehicle-specific options.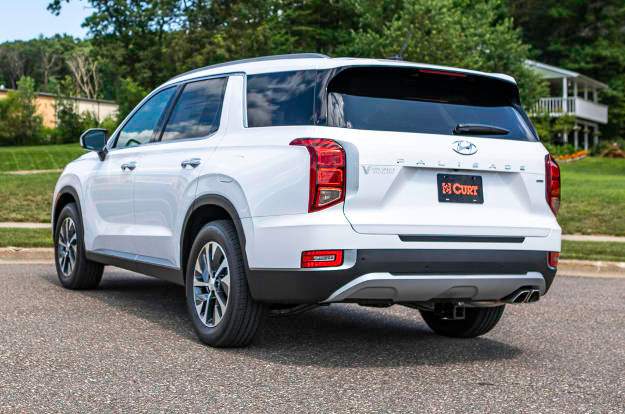 Best SUV hitch
The best SUV hitch is a vehicle-specific receiver hitch that matches the vehicle's towing capacity. SUV hitches can fall into class 2, 3, 4 or 5, because they vary greatly in size and capability.
To select a hitch for your SUV, start by looking up the year, make and model. Find custom-fit options, and then choose based on your preferences and your SUV's capacity.
Additionally, if you're towing a travel trailer or other large trailer, you may want to look into a weight distribution hitch to help manage and stabilize the load.
Best truck hitch
The best pickup truck hitch depends on the type of trailer you're towing. For bumper pull trailers, a custom receiver hitch is best. Trucks can have receiver hitch options from class 3, class 4 and class 5. Find a truck hitch by looking up your year, make and model. Then, select from the provided options.
A weight distribution hitch is also a recommended add-on, especially for larger trailers.
For 5th wheel trailers and gooseneck trailer, a 5th wheel hitch or gooseneck hitch will be best, respectively. Here's a guide for how to select a 5th wheel hitch, and a complete selection of gooseneck hitches.
---
Other Hitches to Consider
Best travel trailer hitch
The best hitch for travel trailers is a class 3, class 4 or class 5. These hitches offer the capacity to safely tow a variety of larger trailers, particularly travel trailers. Most of these receiver hitches are also compatible with a weight distribution hitch, a device typically needed for towing travel trailers.
Not all vehicles can be equipped with a class 3, 4 or 5 hitch. These higher-rated hitches are usually only available for pickup trucks, SUVs and 4x4s.
Best adjustable hitch
The best adjustable hitch is the CURT channel mount #45900. It has high ratings and an extremely versatile design that allows it to adapt to multiple trailers.
This adjustable hitch is perfect for vehicles that tow a variety of trailer types. The ball attachment moved up and down to help level the trailer, and the shank can be flipped for more rise or drop. It also has two standard ball sizes to fit most trailer couplers.
Learn more about the CURT channel mount #45900.
---
Towing 101 Table of Contents
---
Looking for more?
Discover more great tips and how-tos on the Lippert blog -- your destination for all things RVing, towing, boating and beyond!