How to Stabilize a Towing Connection
4 Ways to Stabilize & Quiet a Hitch Setup
A noisy, vibrating, jarring hitch setup can be obnoxious and even dangerous if left unchecked. Stabilizing your vehicle-trailer connection and enjoying a quiet hitch can add safety, comfort and peace of mind to your adventures.
There are four different hitch stabilizer methods you can use to secure a towing connection. These include using a cushion hitch, a weight distribution hitch, a sway control unit and an anti-rattle pin. Some additional options exist for 5th wheel and pintle hitches.
---
First, double-check dimensions and tongue weight!
Before investing in any towing stabilizer or trailer hitch noise reducer products, check these two items on your hitch setup: dimensions and tongue weight.
Matching equipment dimensions
The key dimensions of your hitch equipment must be complementary. In other words, your accessories need to fit with each other. For example, your receiver tube must match your ball mount shank, and your trailer ball diameter must match your trailer coupler.
If sizes are different or you have any trailer hitch slop, loosening and rattling of the equipment will occur and can lead to unsafe towing situations.
Achieving ideal tongue weight
Tongue weight is the downward force of the trailer on the coupling point. Too much of it or too little can lead to trailer sway, impaired driving and an unstable towing setup.
When loading up your trailer, it is important to distribute the weight correctly to ensure the tongue weight falls within the recommended range.
4 Hitch Stabilizer Options
1. Quieter towing with a cushion hitch
A cushion hitch is a hitch stabilizer that uses a buffer to help reduce metal-on-metal rattling, vibrating and even jerking and jarring of the trailer. The buffer can be a rubber insert, an airbag or a bearing mechanism.
Cushion hitches install onto the vehicle, using the receiver tube. As the trailer passes over bumps, potholes and uneven roads, the vibrations and jerking motion of the trailer are absorbed by the cushion hitch, creating a smoother, quieter, more controlled driving experience.
This stable, quiet hitch solution can also help reduce stress and wear on the vehicle and towing components.
Rebellion™ XD
The Rebellion™ XD is an adjustable cushion hitch that can be adapted for different trailer types and heights. It has heavy-duty tow ratings and fits standard hitch receiver tube sizes.
RockerBall™
The RockerBall™ is a unique style of trailer ball, designed to fit onto an existing ball mount to help reduce road noise while towing. It's available in various sizes and weight capacities.
---
2. Stable towing with a weight distribution hitch
A popular RV hitch stabilizer option is the weight distribution hitch. A weight distribution hitch is a receiver accessory that helps manage excessive tongue weight at the connection point. While the most common application is for travel trailers, weight distribution is used on a variety of trailer types.
This stabilizer hitch has two arms that leverage downward on the trailer tongue. This spreads the tongue weight out across the vehicle's axles and makes the vehicle and trailer more level.
CURT has several styles of weight distribution hitches in multiple weight capacities.
---
3. Limiting sway with a sway control unit
Sway control goes hand-in-hand with weight distribution, although the two can be mutually exclusive. A sway control is a simple device that attaches between your hitch and trailer tongue to help reduce the tendency for side-to-side trailer movement while driving.
Trailer sway is a nuisance at best and a danger at its worst. A sway control helps stabilize the vehicle and trailer to keep this side-to-side motion in check. A sway control can be installed in tandem with a weight distribution hitch or on its own using a sway control ball mount.
Two sway controls should be used for maximum trailer / hitch stability.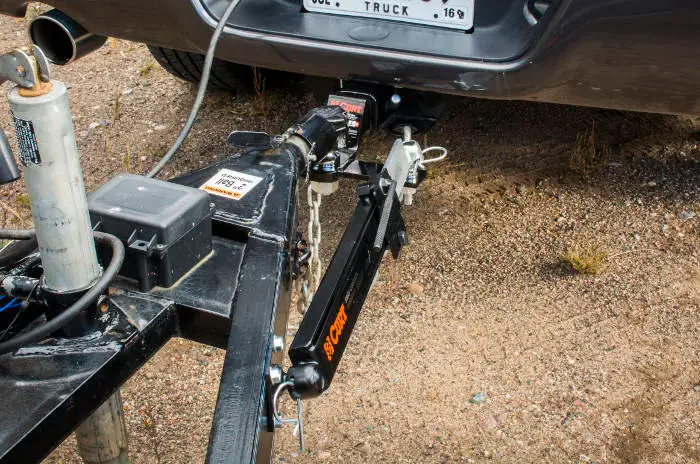 TruTrack™: Combined Weight Distribution and Sway Control
The TruTrack™ weight distribution hitch is a unique towing stabilizer that provides the benefits of both weight distributing and sway control. It evenly spreads the tongue weight of the trailer for a level ride, while also using an integrated spring and cam system to resist trailer sway.
With the TruTrack™, there's no need to purchase or install a separate sway control. It offers the ultimate RV stabilizer hitch solution for travel trailers, heavy campers and other trailer types.
Most CURT weight distribution hitches are also available as kits that include a sway control unit.
---
4. Reducing hitch noise with an anti-rattle
An anti-rattle clamp or anti-wobble hitch pin is one of the simplest but most effective ways to achieve quieter towing and a more stable hitch connection. An anti-rattle installs tightly against the shank to keep it from vibrating inside the receiver.
Anti-rattles are available in a simple threaded pin configuration, adjustable anti-rattle clamp, or as an anti-rattle lock mechanism for added security. Anti-rattle kits are also common used with cushion hitches to help quiet a trailer hitch making noise.
Combining multiple stabilization products
Many of the hitch stabilizer products mentioned above can also be combined with each other to achieve the ultimate in smooth, controlled towing.
The Rebellion™ XD is compatible with a number of attachments, including a pintle mount. With a SecureLatch™ hook and an anti-rattle attached, the hitch connection becomes a quiet, cushioned, anti-rattle pintle connection.
Typically, an anti-rattle pin can be used with any receiver hitch accessory, including cushion ball mounts and pintle mounts. Sway controls are commonly used together with weight distribution hitches.
Just remember to never exceed the lowest-rated component and always verify product compatibility using the owner's manual.
Achieving quieter pintle towing
When towing with a pintle hitch and lunette ring, there is often a fair amount of play in the towing connection. This produces a chucking noise with every start and stop, and it increases the amount of wear on the components.
The CURT SecureLatch™ series of pintle hitches offers a superior towing stabilizer solution. It features a unique cupped hook design that creates a tighter fit between the pintle hitch and ring. This greatly reduces noise, rattling and jerking at the coupling point, unlike traditional pintle options.
SecureLatch™ also features an auto-locking mechanism to streamline the hookup process.
Stable, quiet 5th wheel towing
Chucking and jarring are common problems when towing a 5th wheel trailer. The kingpin of the trailer tends to pop and clunk every time the vehicle and trailer drive over a bump. The CURT Q-series of 5th wheel hitches was engineered to solve this problem.
Q-series 5th wheels are built around a spherical axial bearing within the head -- a mechanism that allows for tilt in any direction. This spherical bearing, combined with full-wrap jaws and three integrated grease fittings, produces smoother, quieter 5th wheel towing.