How to Measure Tongue Weight
Measuring the Tongue Weight of Your Trailer
There are a few different methods that can be used as a trailer tongue weight calculator, including using a tongue weight scale, using a bathroom scale or using a vehicle scale.
Tongue weight is the downward force exerted at the vehicle-trailer coupling point when your trailer is hooked up for towing. In general, you want the tongue weight to be about 10-15% of the gross trailer weight.
---
Measuring Tongue Weight with a Tongue Weight Scale
Available at most towing supply shops, a tongue weight scale is a small scale designed specifically to measure a trailer's tongue weight.
Because you probably will not need to check your trailer's tongue weight very often, you can call and ask if your local trailer dealer has a tongue weight scale you can use.
Measuring Tongue Weight with a Bathroom Scale
You can also measure your trailer's tongue weight with a common bathroom scale. If the tongue weight is expected to be less than 300 pounds, simply place the tongue or jack directly on the scale. You may wish to protect the finish of the scale by placing a small piece of plywood down first.
If the weight is likely greater than 300 pounds, you can use some boards and pipes to set up a test as shown in the diagram. Using this setup, take a reading off the bathroom scale and triple it to find your actual tongue weight.
Measuring Tongue Weight with a Vehicle Scale
One last method for measuring the tongue weight of your trailer is to use a vehicle scale at a rest stop or at your local dump.
Begin by weighing your vehicle without the trailer hooked up. Then, hook up your trailer and weigh your vehicle again, without letting the wheels of the trailer touch the scale. Take the weight of your vehicle by itself and subtract it from the weight of your vehicle with the trailer attached. The difference is the tongue weight of the trailer.
Why Is Tongue Weight Important When Towing?
Tongue weight is important for safely towing any kind of trailer. Improper tongue weight can lead to trailer sway and other dangerous situations. If the tongue weight is too little -- less than 10% of the gross trailer weight -- the trailer may tend to sway back and forth. If the tongue weight it too much -- greater than 15% -- your vehicle may become less responsive, especially when turning.
Properly loading your trailer -- placing cargo in front of or behind the axle -- can have a major effect on tongue weight.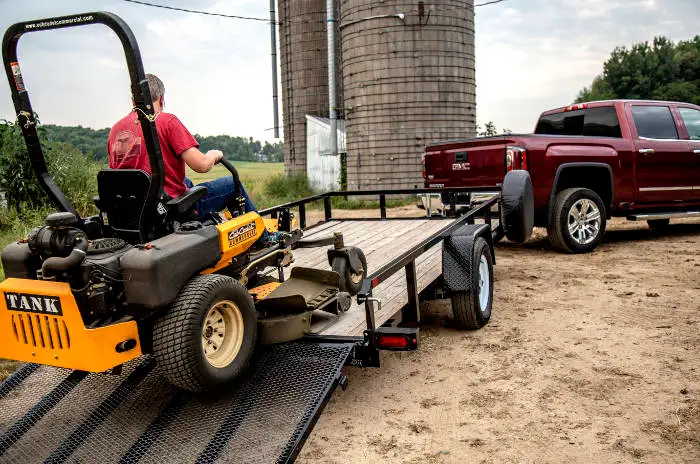 How to Weigh a Trailer -Gross Trailer Weight
To measure the gross trailer weight, load the trailer as you expect to use it and bring it to a vehicle scale. Such scales are sometimes available to recreational users at state highway weigh stations, commercial truck stops or at the local dump.
The advantage of using a vehicle scale is that you learn the actual weight of your loaded trailer. Be sure to call ahead and confirm that you are welcome to use these scales before driving over.
Back to Couplers