Universal Coupler Lock for Reliable Trailer Security
Trouble securing multiple trailers?
It can be a challenge owning – and securing – a variety of trailers. Your RV, boat and flatbed may all have different coupler sizes, and therefore require a unique locking solution. A typical coupler lock is only designed to fit one type of trailer, so switching between towing setups requires a new lock for each one.
---
Introducing the tri-ball universal coupler lock
The CURT tri-ball coupler lock #23082 offers superior security for virtually any coupler-style trailer. It fits 1-7/8", 2" and 2-5/16" couplers. Whatever trailer you're towing, the tri-ball provides a perfect fit.
That means one lock can be used on all of your trailers!
The unique combination of the triple ball insert and lasso lock provides enhanced security whether the trailer is hooked up or parked and left unattended.
How it works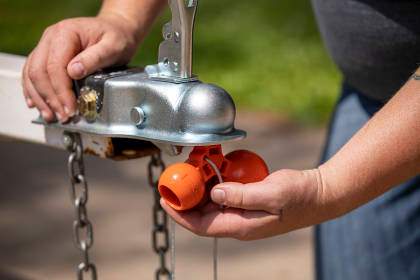 Step 1
To secure your trailer when it is parked, select your ball size and insert the tri-ball into the coupler opening. This prevents a trailer ball from being inserted and your trailer from being towed away without your permission.
Step 2
Close the trailer coupler latch and install the locking pin and lasso. This keeps the tri-ball locked in place until you're ready to hitch up again. The lock is equipped with an adjustable pin to fit a wide variety of latch spans, from 1" to 3".
Step 3
When you're ready to tow, remove the locking pin, open the coupler latch and remove the tri-ball insert. After hooking up your trailer, replace the locking pin. The lasso keeps all components together to avoid lost pieces.
Built-in theft deterrence
The tri-ball insert not only prevents coupling, but it also features a vibrant orange color. This increases the lock's visibility and lets potential thieves know your trailer is not an easy target.
However, even if someone does decide to meddle with your trailer while it's parked, the tri-ball has built-in safety points. If a thief tampers with the tri-ball, it is engineered to break away, leaving the ball in the coupler and continuing to deter unwarranted hookup.
---
Features and benefits of tri-ball lock
---
FAQs
Will this lock work on all coupler types?
The CURT tri-ball coupler lock is compatible with standard tow ball couplers that accept a latch pin. It is not for use with pintle, gooseneck or 5th wheel hitches.
Why do I need a ball in the coupler if I can lock the latch pin?
The added tri-ball insert enhances the security of your trailer by blocking the couple point. Without this, a potential thief might be able to insert a smaller sized ball or tow hook and drive away with the trailer.