Revolutionary No-Latch Trailer Coupler
Frustrated with your trailer coupler?
If you've ever coupled or uncoupled a trailer, you know how much hassle the trailer latch can be. Exposed to the elements, traditional coupler latches can become corroded, and the complicated spring and hinging components are prone to jam.
What if you could couple your trailer without the frustration of hinging the latch? What if your coupler didn't even need a latch at all?
---
Introducing the QuickPin™ no-latch coupler
QuickPin™ is a revolution in trailer coupler technology, completely doing away with the traditional coupler latch design. Instead, to secure your trailer to your hitch ball, this innovative coupler using a single pin.
Just drop the trailer tongue onto the tow ball, slide the QuickPin™ hitch pin into place and secure it with the included safety pin. That's it!
QuickPin™ features standard mounting holes to fit onto most existing trailer tongues, using the pre-drilled holes. It is available in a variety of standard ball sizes.
---
"This has to be the easiest hook up I have ever seen on a hitch."
- David W.
---
Available Styles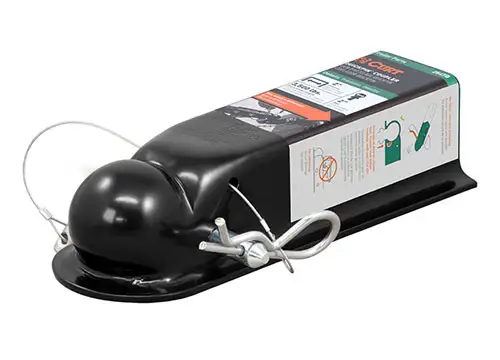 Straight Tongue
A-Frame
---
QuickPin™ coupler features & benefits
---
---
Installation Instructions
---
FAQs
Can I use a different hitch pin to secure the coupler?
No, a different pin may not be used. The QuickPin™ coupler must be secured using the included pin.
Can I use a hitch lock on my QuickPin™ coupler?

Is QuickPin™ safe to use?
QuickPin™ couplers are tested to SAE-684 specifications for safety and are rated for standard gross trailer weight capacities.
Will QuickPin™ fit on my trailer?
QuickPin™ couplers are available to fit trailer straight tongue beams of 2", 2-1/2" and 3" wide. The mounting holes are spaced to match up with most existing mounting hole patterns. The QuickPin™ is also available to fit standard ball sizes.