Revolutionary No-Latch Trailer Coupler
Frustrated with your trailer coupler?
If you've ever coupled or uncoupled a trailer, you know how much hassle the trailer latch can be. Exposed to the elements, traditional coupler latches can become corroded, and the complicated spring and hinging components are prone to jam.
What if you could couple your trailer without the frustration of hinging the latch? What if your coupler didn't even need a latch at all?
---
Introducing the QuickPin™ no-latch coupler
QuickPin™ is a revolution in trailer coupler technology, completely doing away with the traditional coupler latch design. Instead, to secure your trailer to your hitch ball, this innovative coupler using a single pin.
Just drop the trailer tongue onto the tow ball, slide the QuickPin™ hitch pin into place and secure it with the included safety pin. That's it!
QuickPin™ features standard mounting holes to fit onto most existing trailer tongues, using the pre-drilled holes. It is available in a variety of standard ball sizes.
---
"This has to be the easiest hook up I have ever seen on a hitch."
- David W.
---
How it works
Step 1 - Drop trailer tongue
Replace your existing trailer coupler with the QuickPin™ no-latch coupler. Drop the trailer tongue down until the QuickPin™ coupler seats onto the trailer ball.
Step 2 - Insert primary pin
Slide the QuickPin™ hitch pin into place. The unique design secures the coupler firmly in place without the need for a complicated hinging latch. No adjustment needed!
Step 3 - Secure with safety clip
Secure the QuickPin™ hitch pin for travel with the included safety clip. A convenient lasso-style lanyard keeps the components together to avoid lost pieces.
---
Available Styles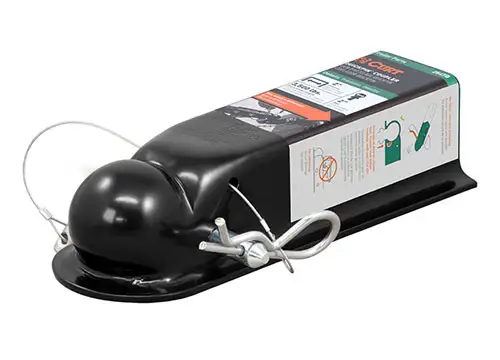 Straight Tongue
A-Frame
---
QuickPin™ coupler features & benefits
---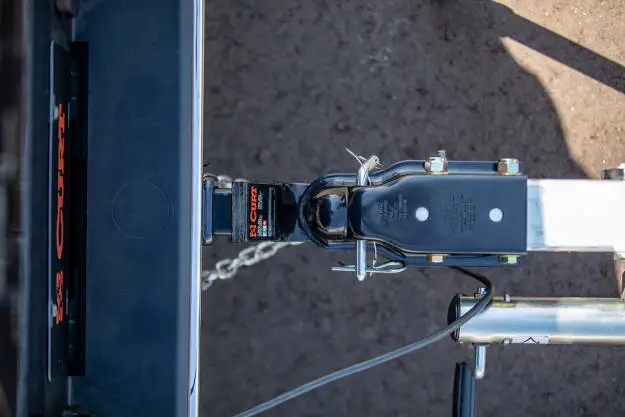 Standard bolt hole pattern for easy replacement
QuickPin™ is engineered to be a replacement coupler for your existing trailer tongue. It is equipped with pre-drilled holes to match the existing bolt pattern on most trailer tongue beams.
In the event that the holes in your trailer tongue do not match up with the QuickPin™ coupler pattern, new holes may need to be drilled.
Fully tested to SAE J684
To provide you and your loved ones with a safe, reliable towing connection, the QuickPin™ coupler is fully tested at our Detroit engineering facility. It passes SAE J684 performance specifications and our own rigorous, internal fatigue test.
Each QuickPin™ coupler is constructed from stamped steel and is available in industry-standard weight ratings.
Finished for dependability
To protect QuickPin™ for the long haul, this trailer tongue coupler comes with a durable black powder coat finish. This ensures lasting corrosion resistance, in spite of the outdoor elements.
The QuickPin™ coupler is backed by a limited lifetime warranty.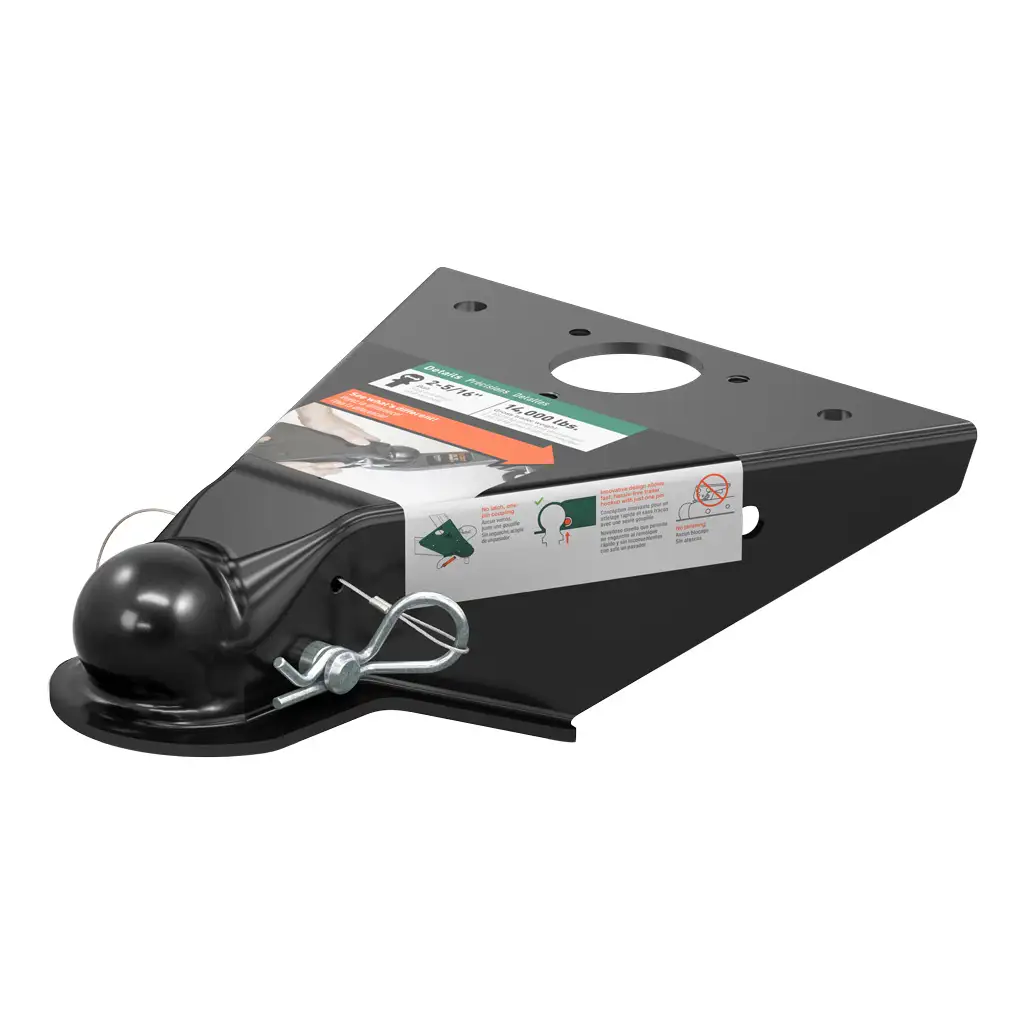 QuickPin for A-Frame Trailers
QuickPin is also available in an A-frame option, featuring a 50-degree angle to fit a wide variety of A-frame-style trailer tongues. The A-frame QuickPin coupler features the same no-hassle, no-latch technology, and it can be welded or bolted into place (hardware not included).
---
---
Installation Instructions
---
FAQs
Can I use a different hitch pin to secure the coupler?
No, a different pin may not be used. The QuickPin™ coupler must be secured using the included pin.
Can I use a hitch lock on my QuickPin™ coupler?
Yes, the following CURT hitch locks can be used with QuickPin™ couplers to increase trailer security: chrome deadbolt lock #23020, chrome deadbolt lock with adapter #23024, chrome barbell lock #23501, stainless steel barbell lock #23517 and chrome right-angle lock #23506.
Is QuickPin™ safe to use?
QuickPin™ couplers are tested to SAE-684 specifications for safety and are rated for standard gross trailer weight capacities.
Will QuickPin™ fit on my trailer?
QuickPin™ couplers are available to fit trailer straight tongue beams of 2", 2-1/2" and 3" wide. The mounting holes are spaced to match up with most existing mounting hole patterns. The QuickPin™ is also available to fit standard ball sizes.