Wheel Bearings - Learn More
Keeping the wheels of your trailer well lubricated is an important part of towing responsibly. A trailer's wheels need to be cared for just like the wheels of your vehicle. CURT offers both wheel bearing kits and wheel bearing protectors to help maximize the life and performance of your trailer.
Each CURT wheel bearing kit includes two bearing cones, two bearing cups, a grease seal and a cotter pin.
The bearings are designed to automatically maintain the correct internal pressure to provide smooth rotation of your wheels. They are also specially designed to protect the internal seals, keeping them from becoming damaged.
CURT wheel bearings are available in three standard spindle outer diameters, including 3/4", 1" and 1 1/16".
To protect your wheel bearings and ensure even greater, long-term operation, CURT also offers wheel bearing protectors.
Acting like a cap for your wheel bearings, CURT bearing protectors offer two essential benefits for your trailer. First, they provide a reservoir of grease to lubricate your wheels and keep them turning smoothly mile after mile. Second, they cover the bearings so that mud, rain, road grime and other threats are kept out.
Our bearing protectors also come with plastic dust covers that fit over the end of the protector for even more defense against the elements. Choose a set of CURT bearing protectors for your trailer wheels and get the most out of your towing. We offer hub diameters in 1.78", 1.98", 2.32" and 2.44".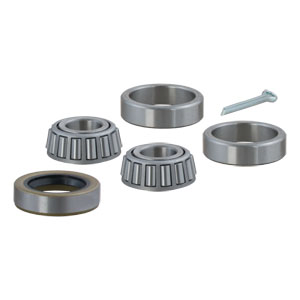 Back to Wheel Bearings and Protectors