Safety Chains - Learn More
No matter how far you are planning to drive – down the street or across the state – using safety chains when you tow is smart, safe and required by law. Without safety chains attached, there is a serious risk of danger if your trailer becomes uncoupled from your
trailer hitch
. Play it safe with safety chains, and play it smart with safety chains from CURT.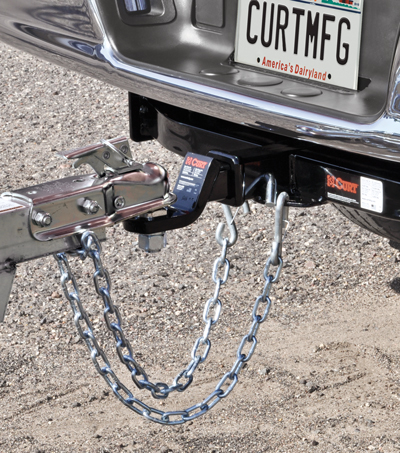 Standard Safety Chains
CURT has a few different options when it comes to securing your trailer. Our basic safety chains are made from high-quality steel and are grade-30-certified. We equip each chain with sturdy S-hooks or latch hooks for reliable coupling to your vehicle.
CURT safety chains are available in 27", 35" and 48" lengths and have a minimum break force ranging from 2,000 to 24,000 lbs. We also have a vinyl-coated option to keep the chain well protected from the elements. Remember, each safety chain assembly connecting your trailer to your vehicle must meet or exceed the gross trailer weight.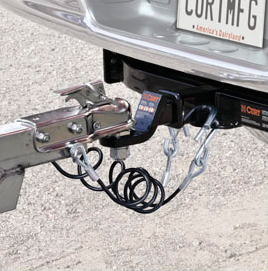 Safety Cables
An alternative to traditional safety chains is CURT safety cables. Safety cables are a medium-duty safety option and are very effective for most standard trailers.
CURT safety cables come in weight capacities ranging from 3,500 lbs. to 7,500 lbs. and are fitted with safety latches instead of S-hooks to prevent them from becoming unhooked even over bumps and rough roads.
One unique feature of CURT safety cables is their nylon coating. Being coated in a nylon skin keeps these cables well protected from rust, reduces the amount of noise they make and makes them easier to handle. All CURT safety cables come in 42" lengths.
Transport Binder Safety Chains
In addition to our safety chains and cables, CURT offers heavy-duty chain to accommodate the larger loads of commercial and industrial towing. Transport binder safety chains range in minimum break strength from 18,800 lbs. to 26,400 lbs. and come in generous lengths of 14' to 25'.
CURT heavy-duty safety chains are equipped with clevis grab hooks to give them a better grip on bulky loads such as construction equipment, building materials and high-powered machinery.
Hooking up Safety Chains
Ensuring that you have safety chains that are rated to meet or exceed the gross weight of your trailer is incredibly important, but it is also important that you have your safety chains hooked up properly.
Attaching safety chains the right way is easy to do: simply cross the chains underneath the coupler, one over the other, as you attach them to your vehicle. It may seem insignificant, but having your safety chains crisscrossed underneath your trailer coupler will actually help prevent unnecessary damage if your trailer becomes uncoupled. The crossed chains will provide a cradle or safety net for the coupler, keeping it from scraping the ground until you can bring your vehicle to a complete stop.
Back to Safety Chains