There are always some factors on the road you cannot control -- an irresponsible driver, adverse weather conditions -- but one thing you can control is the type of towing equipment you use. Just because there are dangers out there, doesn't mean your towing adventures should be limited.
CURT offers a variety of hooks -- including S-hooks, clevis hooks, snap hooks, quick links and joining hooks -- to make sure you have confidence to safely Bring It®.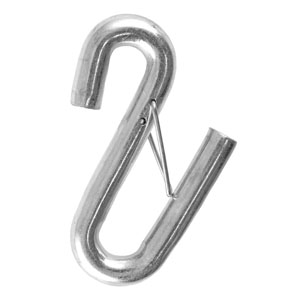 Certified S-Hooks
CURT certified S-hooks are the easy, reliable way to connect your safety chains from your trailer to your tow vehicle. They feature heat-treated steel construction and a zinc-plated finish. For added safety, our S-hooks are tested and certified to meet SAE J684 specifications.
Remember, when attaching safety chains, each hook and chain must be rated to meet or exceed the gross weight of your trailer.
Clevis Hooks
CURT clevis hooks are heavy-duty hooks for connecting safety chains or transport binder chains. Meeting the requirements for high-test chain, clevis hooks are perfect for latching down heavy cargo and securing large loads in commercial and industrial applications. They feature heat-treated steel construction to ensure long-lasting wear resistance, and they come with a durable zinc finish.
We offer clevis grab hooks, as well as clevis hooks with safety latches, featuring an exclusive design for a more secure hold.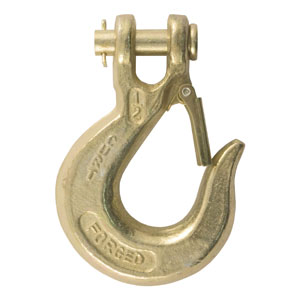 Snap Hooks
CURT snap hooks are ideal for securely fastening a hand winch strap or cargo strap. They feature a spring-loaded safety latch that turns the hook into a closed loop. Similar to CURT quick links, the safety latch allows for a connection that won't come loose from vehicle vibrations or jarring on uneven terrain.
Snap hooks feature a strong steel construction and come with a zinc-plated finish to outlast the elements.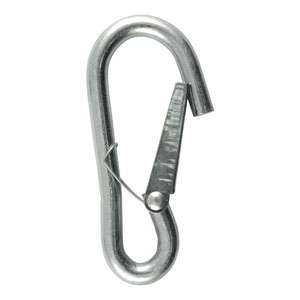 Quick Links
CURT quick links are extremely versatile and reliable. A quick link is essentially a hook that is able to be fastened into a closed loop. This means it can be linked onto any tie-down anchor like a hook and just as easily secured like a seamless link in a chain.
CURT quick links feature a threaded end and barrel screw that require no tools for tightening or loosening. They can be used to connect rope, cable and chain, and they are the perfect safety accessory to maximize the security of your safety chains and trailer.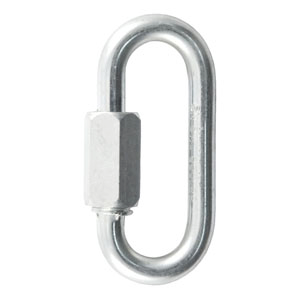 Joining Hooks
CURT joining links are made from 1038 steel and can be used to connect chains, cables, ropes and more. They are available in two sizes, including 9/0 and 7/16", as well as two finish options, including raw steel for a weld-on option. Joining links should not be used for lifting applications.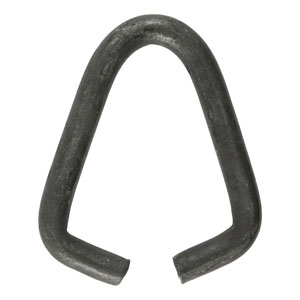 Back to Hooks