ATV Cargo Carriers - Learn More
Outdoorsman, fisherman, hunter or joyrider – whoever you are – your ATV is your key to the trails you love to ride and the outdoors you live to enjoy. Give yourself the ultimate accessory for your 4 wheeler with a CURT universal ATV cargo carrier. This easy-to-install attachment adds seven and a half square feet of storage area to your all-terrain vehicle and features a universal design to fit virtually any ATV. So bust out the mud boots, fill up the tank and get ready to ride because the CURT ATV cargo carrier is ready to Bring It®.
In addition to plentiful storage room and a solid build, one of the key features of the CURT ATV cargo carrier is its universal design. It comes with a universal layout to fit on the back of most ATV cargo racks. It is designed to rest right on top of the ATV cargo rack and includes a set of brackets and hardware to be bolted on. The brackets are made to offer flexibility in installation, allowing you to attach them wherever needed. Installation is also very fast and easy. Each bracket uses two bolts to fasten directly to the cargo carrier.
Play Video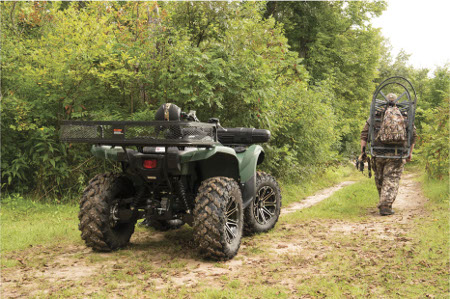 The CURT ATV cargo carrier is also made to be extremely durable. When we designed it, we wanted to make sure it could stand up to some tough wear and tear. We built it with a heavy-duty tubular steel frame, and then lined the entire thing with steel mesh. This makes it strong and lightweight. The mesh base also allows debris and spilled materials to pass through, keeping the cargo space clean. To finish things off, the ATV cargo carrier is covered in a carbide powder coat. The carbide finish makes it extremely resilient to rust and corrosion, as well as scratches and UV damage, meaning it thrives in the outdoors.
To make sure you have enough room for any job, the CURT ATV cargo carrier offers a generous storage area of 41" x 26". It also provides a more secure storage option than other cargo carriers because it features 6 1/4" high walls. The walls are made with the same tubular steel and mesh construction and help ensure your items stay secure over rough terrain. They also offer a convenient attachment point for a cargo net or bungees.
Wherever you use your four wheeler -- on the farm, in the woods, through the fields or over the sand dunes -- the CURT universal ATV cargo carrier is ready to go with you.
Back to ATV Cargo Carriers