3 Types of Vehicle Wiring Diagrams for Towing
Simple Vehicle Wiring Diagrams for Towing
3 Types of Wiring Systems
When towing, your trailer's wiring system needs to be connected to your vehicle's wiring system. This requires a plug and socket, as well as a taillight converter in many cases. The following are some of the different automotive electrical systems used in vehicles today.
---
2-Wire Automotive System
The two-wire system is the simplest form of vehicle and trailer wiring and is still used by some vehicles today. This system sends the stop or brake signal and the turn signals along one wire, and the taillight signal along a second wire.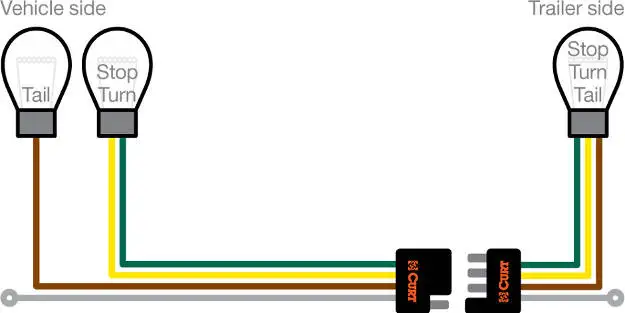 3-Wire Automotive System
The three-wire system is the most common automotive electrical system. It sends the stop, tail and turn signals along three separate wires. Vehicles with a three-wire system usually require a converter to be able to tow a trailer.
Pulse Width Modulation (PWM) Automotive System
What is pulse width modulation? More and more vehicles today use a PWM wiring system. Sometimes called a 'multiplex' system, this type of wiring is able to control multiple lighting functions through a single wire by varying the signal intensity. PWM systems can use incandescent or LED lights, and they generally fall into one of two categories: ST systems and STT systems.
ST System
The ST system (stop / tail) is a PWM system that uses a single wire to control the stop and taillight signals. Separate wires are used to control the left and right turn signals.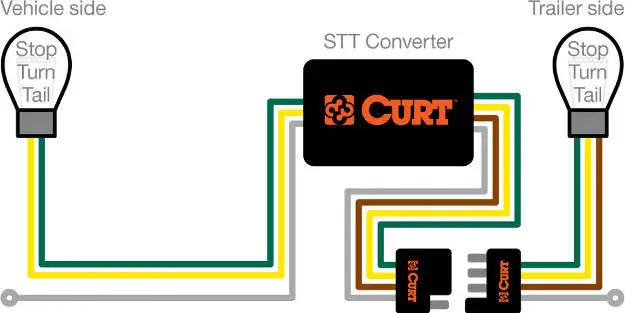 STT System
The STT system (stop / turn / tail) is a PWM system that uses a single wire to control all three lighting functions: the stop or brake lights, turn signals and taillights.
Back to 3-to-2-Wire Taillight Converters