Breakaway Systems - Learn More
Nobody sets out on a trip expecting it, but the truth is, a breakaway can happen. When a trailer becomes separated from the tow vehicle, everyone on the road can be at risk, and there is an even greater potential for damage to the trailer and cargo. In addition to double-checking your trailer hitch connection and properly hooking up your safety chains, be prepared for anything with a CURT breakaway kit.
During a separation, a CURT breakaway kit works with your trailer's electric brakes to bring it to a stop much faster than it would on its own. This is done using an onboard battery attached to the trailer and a switch system connected to both the trailer and the vehicle. When the trailer becomes disconnected, the breakaway switch is triggered and directs the battery power to the trailer brakes.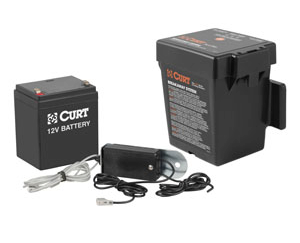 CURT offers three different styles of breakaway systems: the Soft-Trac I, the Soft-Trac II and the push-to-test kit. Our Soft-Trac I breakaway system is intended for use on trailers with one to three axles and is designed to meet or exceed DOT specifications. Soft-Trac I includes a rechargeable battery, a lockable battery case and a nylon breakaway switch. A battery charger is also available with certain models.
The CURT Soft-Trac II breakaway system can manage up to three axles and can be mounted on an A-frame or jack posts with a quick and easy bolt-on installation. This kit includes a rechargeable battery, a lockable battery case made of heavy-duty polyethylene and a nylon breakaway switch. Like the Soft-Trac I, the battery charger is an additional feature with certain Soft-Trac II kits.
The CURT side-load push-to-test breakaway system is the newest addition to our breakaway kit lineup. As the name suggests, one of the key features of this system is its battery tester. With the push of a button, you can be sure your breakaway system is prepped and ready to go, giving you the peace of mind for every mile of your journey. The CURT push-to-test breakaway kit includes a rechargeable battery, a built-in battery charger, a breakaway switch and mounting hardware. It meets all DOT requirements for holding/breakaway situations. No matter what heavy load you are hauling, tow prepared with a CURT breakaway system.
Back to Breakaway Systems