The Multi-Flex™ / MultiPro™ Tailgate Hitch Solution
Protect Your Tailgate from Costly Damage
No splicing wires or buying a separate hitch!
The GMC MultiPro™ / Chevrolet Multi-Flex™ tailgate is an exciting innovation for pickup truck owners, adding functionality and more ergonomic access to the truck bed.
When towing a trailer with your GMC or Chevrolet truck, it is important to protect the inner tailgate. If a hitch accessory is installed in the receiver, folding down the inner panel could result in costly damage. GMC MultiPro™ tailgate replacement cost can be as much as $3,000 and adds downtime for your truck, and alternative tailgate sensors are expensive and require cutting and splicing.
---
Introducing the GM Tailgate Sensor
The CURT protective MultiPro™ / Multi-Flex™ tailgate sensor prevents costly damage to your truck's inner tailgate from obstructing a hitch accessory. The sensor is integrated with a standard hitch cap and disables the inner tailgate functionality when any shank is installed in the receiver.
The CURT protective tailgate saver turns any ball mount into a Multi-Flex™ or MultiPro™ tailgate hitch, ready to get the job done! It is available in standard 2" and 2-1/2" receiver options and can be installed easily with no splicing required!
---
Tailgate Sensor: With vs. Without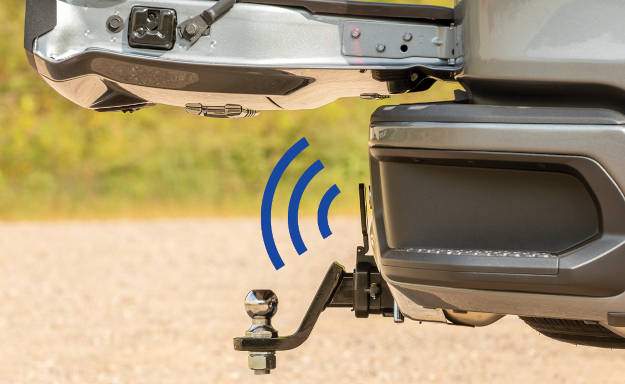 With the tailgate sensor, the Multi-Flex™ / MultiPro™ inner tailgate is disabled with a ball mount or other towing accessory installed in the receiver. This prevents obstruction and costly damage.
Without the tailgate sensor, the inner tailgate is able to drop down and collide with any hitch accessory in the receiver. This instantly causes damage to the tailgate, resulting in expensive repairs.
---
Key Features of the Tailgate Sensor
---
No-Splice Installation
Step 1: Assemble the hitch cap with sensor over the opening of the receiver tube. The cap comes with a spring-loaded lid to help protect the receiver from rust and debris when not in use.
Step 2: Route the included wiring harness along the underbody of the truck. Then, access the midgate panel and plug the harness into the factory connectors. Some disassembly of the tailgate is required.
Step 3: Enjoy stress-free towing with your truck! Be sure to test the new tailgate saver to ensure the inner tailgate disables properly.
Consult the instructions included with your sensor.
---
FAQs
Is there splicing involved?
The CURT tailgate sensor does NOT require splicing. It comes with factory-style connectors for a plug-and-play installation.
What sizes does it come in?
The CURT tailgate sensor cap is available to fit standard 2" and 2-1/2" receivers, accommodating all GMC and Chevrolet truck hitch options.