Learn about CURT 5th Wheel Hitches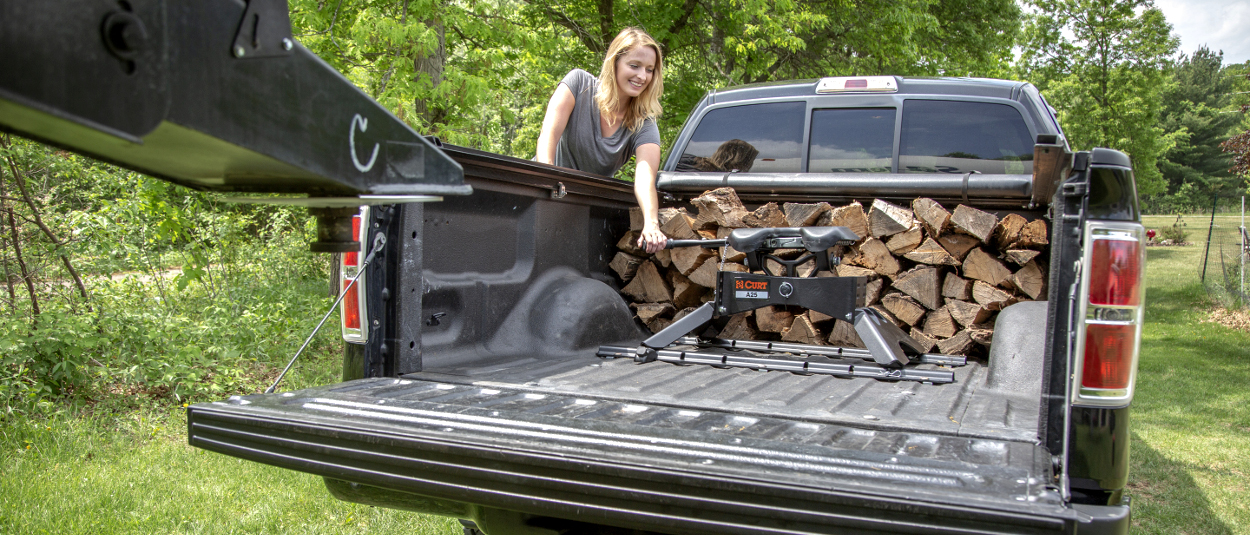 A 5th wheel hitch to fit your lifestyle
The best 5th wheel hitch doesn't just get the job done. To be the best, it has to inspire confidence -- confidence that comes from careful testing, by a dedicated engineering team, to ensure unwavering safety.
CURT 5th wheel hitches are engineered and tested to fully support your adventures, allowing you to enjoy every mile of the journey, stress-free. We offer three unique series of 5th wheel hitches -- each with its own set of advantages -- to perfectly suit your truck, trailer and lifestyle.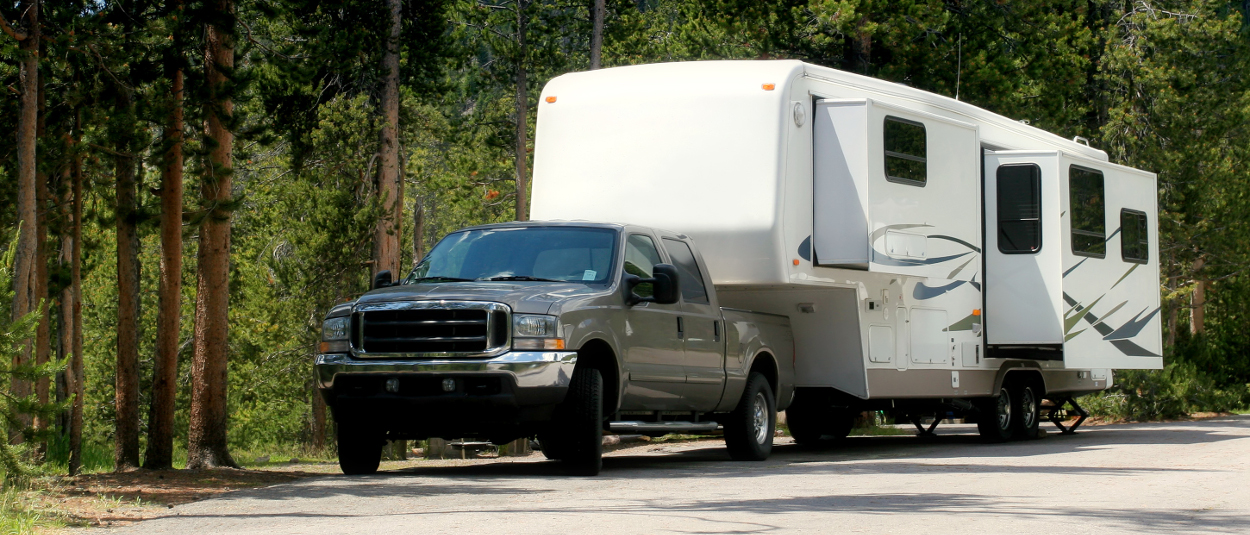 Compare CURT 5th wheel hitches: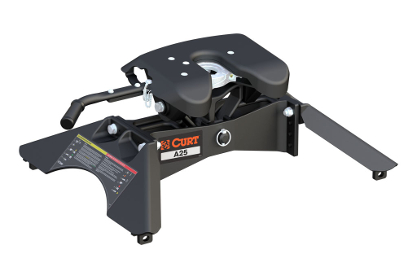 A-series
The A-series is named for its articulating head design. The hitch head is built on a patented cast yoke that offers a stable, quiet ride, even with large 5th wheel trailers.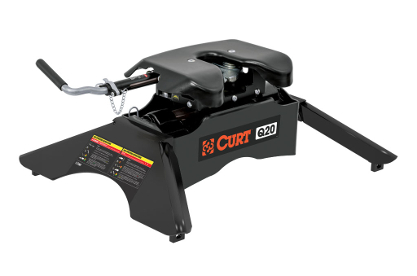 Q-series
The Q-series is designed to offer the quietest towing possible. It features a spherical axial bearing that allows the head to tilt in any direction needed to ensure a smooth ride.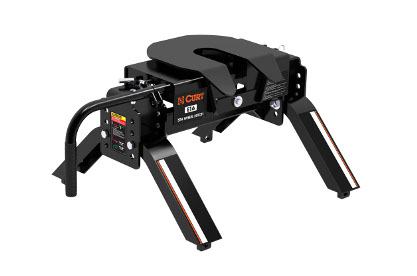 E-series
The E-series is designed to be a more economical option for our budget-conscious customers. It operates on a dual-pivoting head with 10° of lateral movement.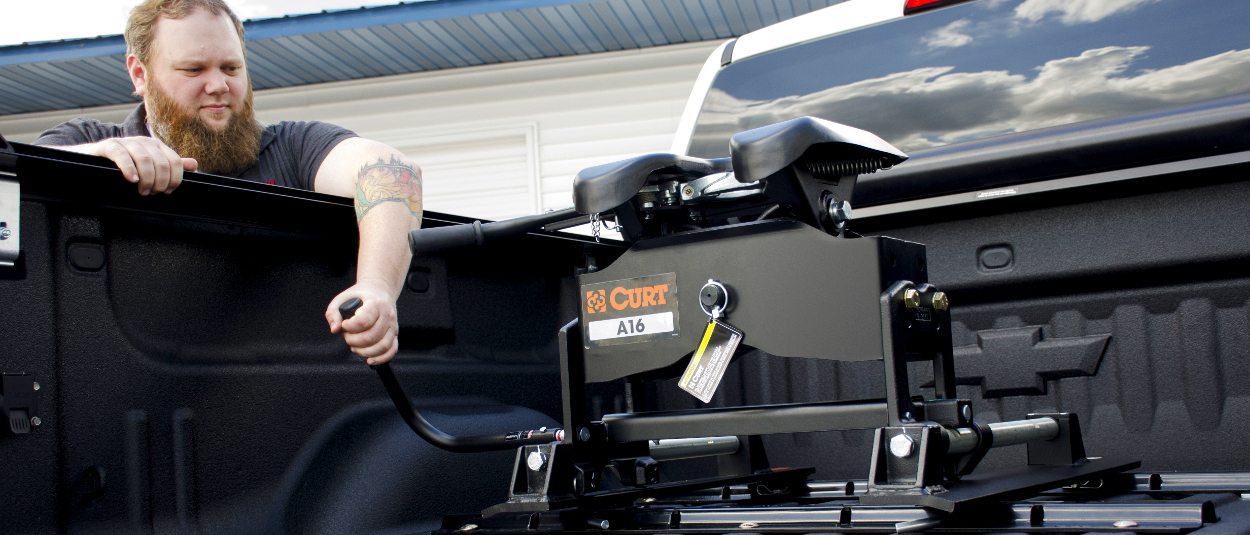 Explore CURT 5th wheel hitches:
5th wheel hitches rated for 16,000 pounds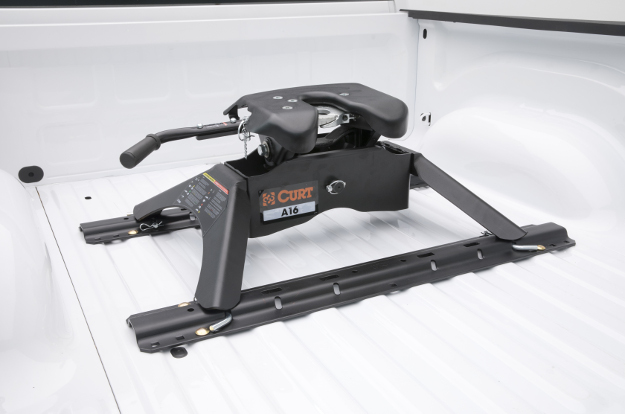 A16 5th wheel hitch
The CURT A16 5th wheel hitch excels in providing a smooth, stable ride. It uses a patented head design, a cast yoke system and interlocking jaws to ensure stability for your truck and trailer. These components allow the A16 to suppress shocks, vibrations and noise while towing.
Like other CURT A-series 5th wheel hitches, the A16 has an ergonomic, self-resetting handle and one-pin head removal for the easiest possible setup.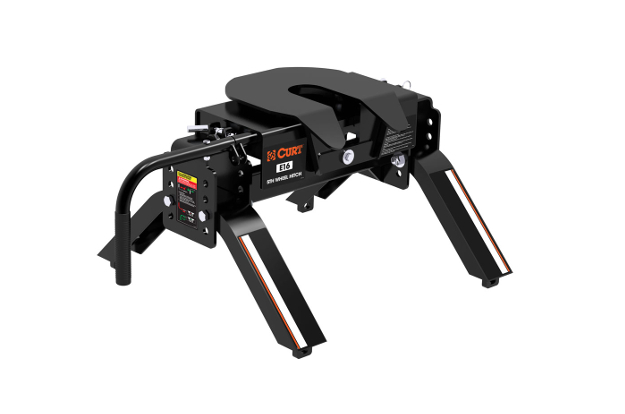 E16 5th wheel hitch
The E16 is designed to be a budget-friendly 5th wheel hitch. It has a gross trailer weight rating of up to 16,000 pounds and a vertical load limit of 4,000 pounds. It comes with a dual-pivoting head, 10 degrees of lateral movement and an anti-rattle skid plate to provide a smoother, quieter ride.
The E16 5th wheel hitch also features single-handle operation and four height adjustment settings to perfectly adapt to your unique truck bed.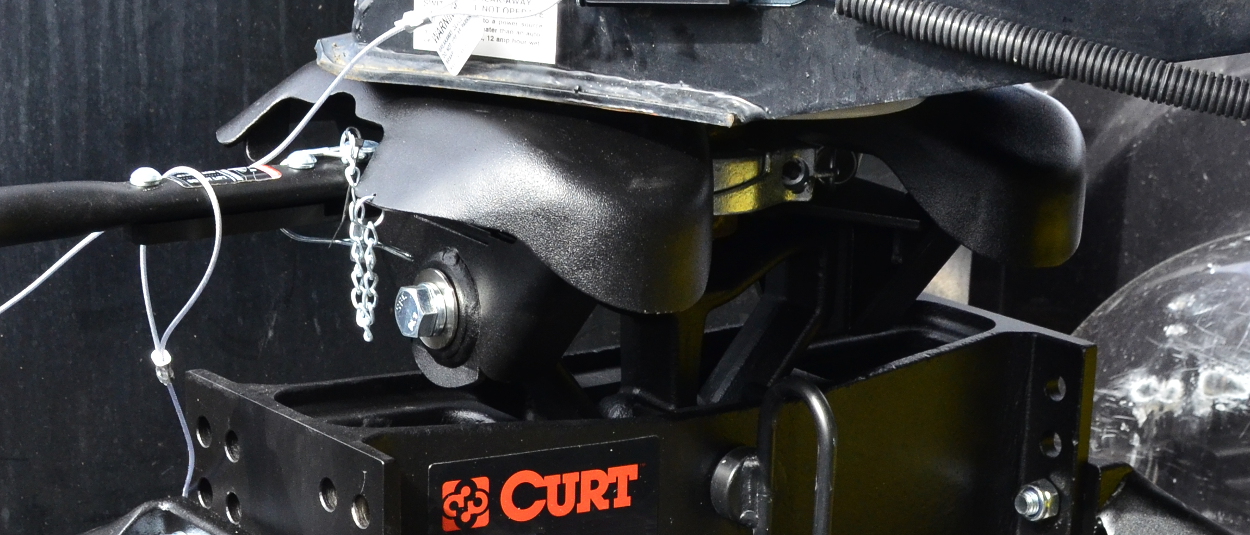 5th wheel hitches rated for 20,000 pounds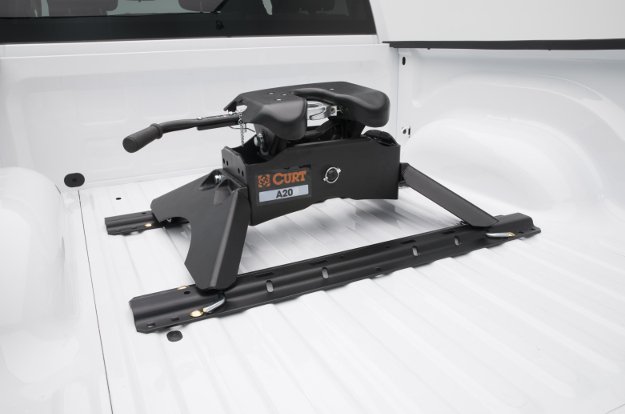 A20 5th wheel hitch
The CURT A20 5th wheel hitch is built to safely and securely tow 5th wheel trailers up to 20,000 pounds. It features a patented articulating head with poly-torsion inserts for a quiet, stable ride, and it has a self-resetting handle for easy, ergonomic operation.
The A20 5th wheel also comes with alignment pegs and easy-access mounting bolts to speed up and simplify the installation process. With its one-pin head removal, the A20 couldn't be easier to mount in the truck bed and remove whenever necessary.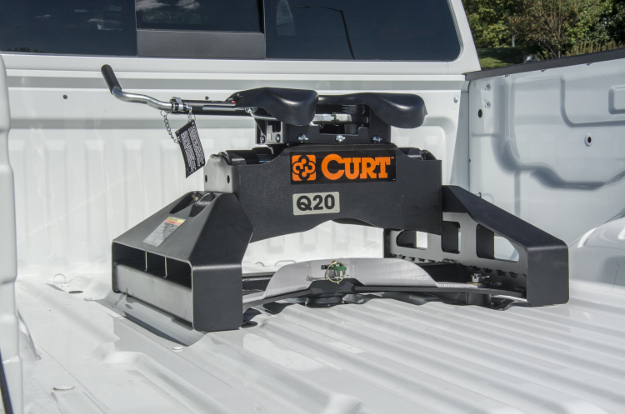 Q20 5th wheel hitch
The Q20 5th wheel hitch is made for quiet towing, featuring a spherical axial bearing and three easy-access grease fittings. This ensures a smooth, quiet ride and allows unimpeded head movement with a wide turn radius for your trailer.
The self-aligning head and dual-locking jaws of the Q20 5th wheel make coupling much easier. It also features a three-position coupling indicator, eliminating the need for you to climb into the truck bed to check the coupling status of the hitch and trailer.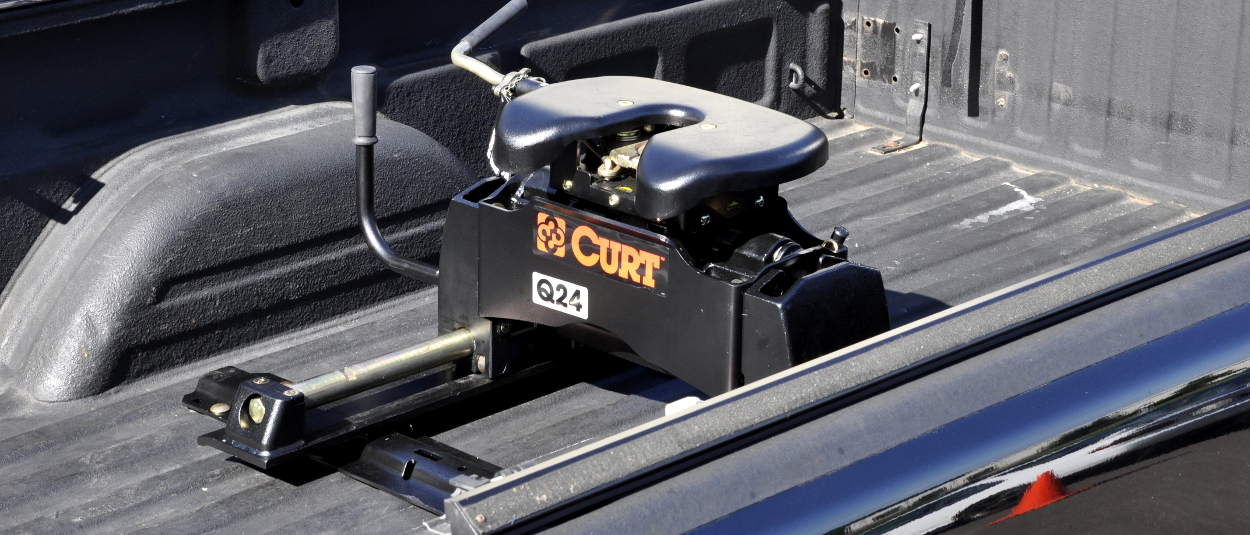 5th wheel hitches rated for 24,000 pounds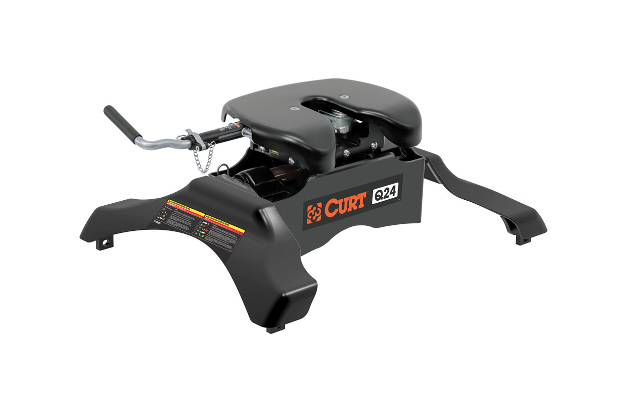 Q24 5th wheel hitch
The CURT Q24 5th wheel hitch is set apart with its spherical axial bearing and 24,000-pound weight rating. Instead of having a set of rods on which the hitch head can pivot, the Q24 uses a spherical bearing to allow the head to pivot in virtually any direction. This means smoother turns, a quieter ride and less strain on your towing equipment and truck.
The Q24 5th wheel hitch also features dual-locking jaws, a self-aligning head, single-handle operation and a three-position coupling indicator.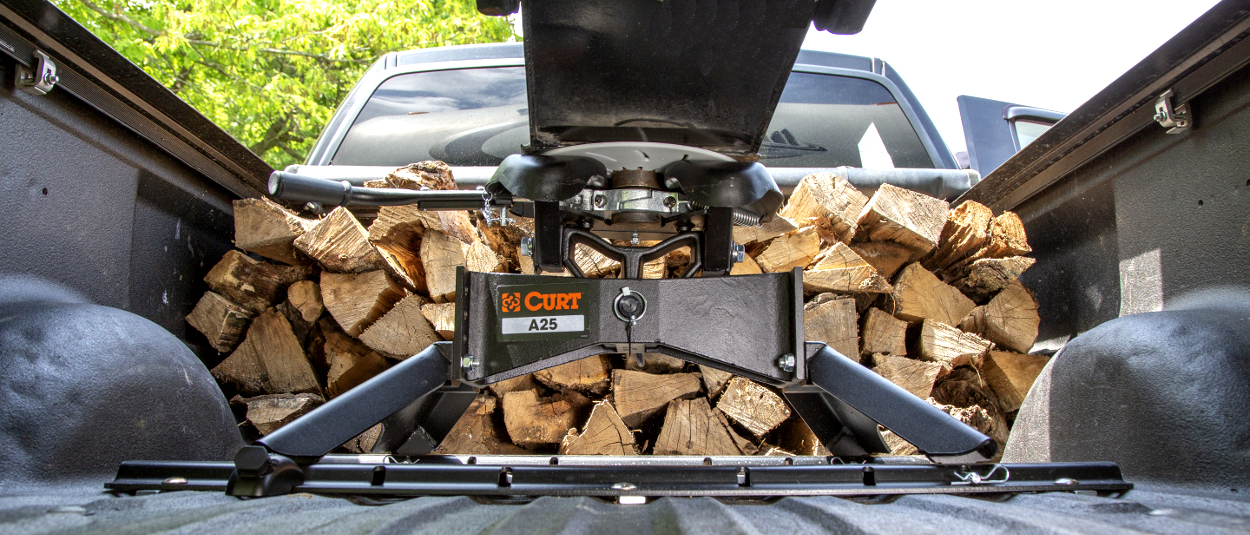 5th wheel hitches rated for 25,000 pounds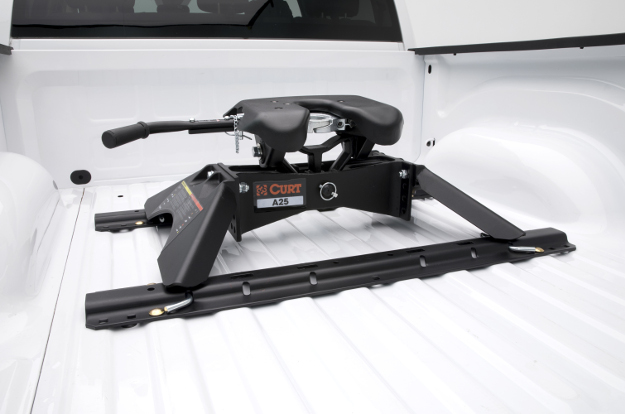 A25 5th wheel hitch
The A25 is engineered, finished and tested for maximum stability with the largest of 5th wheel trailers. It operates with a patented cast yoke head that allows for fluid movement of the 5th wheel trailer without sacrificing towing power. It has a cast steel body for added strength, and it is fully tested to SAE J2638 standards for safety.
The A25 5th wheel is very easy to install and operate, featuring a one-pin head attachment, alignment pegs for leg-to-body mounting, easy-access bolts and an ergonomic handle that self-resets for fewer steps when coupling.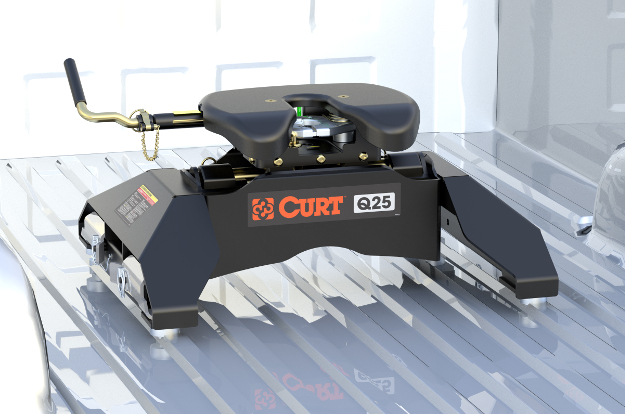 Q25 5th wheel hitch
The Q25 5th wheel hitch balances maximum towing power with a smooth, quiet ride. The defining component of this 25K 5th wheel is its unique pivoting mechanism: a spherical axial bearing at the heart of the hitch head. This highly sophisticated technology allows the 5th wheel head to tilt in virtually any direction to accommodate the movement of the trailer.
The Q25 uses a pair of dual-locking jaws to completely wrap the kingpin and ensure a secure vehicle-trailer connection. To make the Q25 even quieter, it also comes with three grease fittings for optimum lubrication.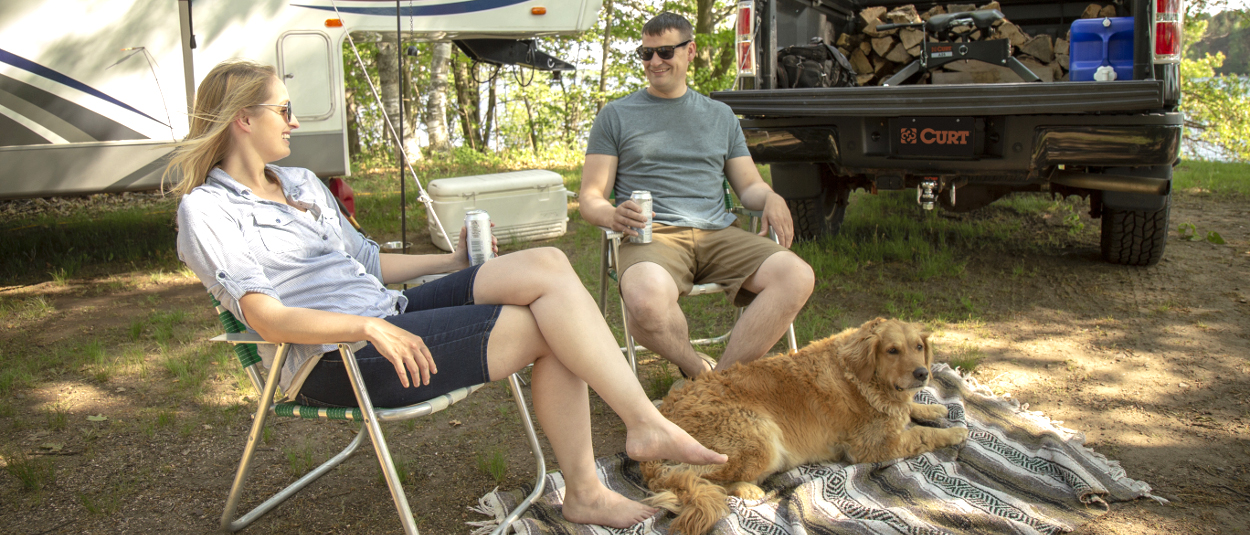 Thoroughly tested to let you enjoy the adventure
Whether you call yourself a full-time RV enthusiast or a casual camper, we know the value of weekend getaways and cross-country adventures alike. Our goal isn't to simply offer you a selection of 5th wheel hitches. We want to help you and your loved ones enjoy the journey -- towing with confidence and making memories that will last a lifetime.
All CURT 5th wheel hitches are engineered for intuitive operation and tested for safety, giving you complete peace of mind for the road ahead.
Back to Category