OEM Puck System Gooseneck Kits - Learn More
Outfitting your pickup truck to tow a heavy-duty flatbed or livestock trailer is easy with a CURT OEM puck system gooseneck ball and safety chain anchor kit. These factory-style components install quickly and securely, utilizing the puck system of trucks with the towing prep package. Whether you get the job done with your Chevy, Ford, GMC, Nissan or Ram truck, CURT OEM puck system gooseneck balls and safety chain anchors are built to work, and they are available in complete kits, with a durable storage case, to fully equip your truck for the long haul.
Each OEM puck system gooseneck kit for Ford, GM, Nissan and Ram includes a make-specific gooseneck trailer ball and make-specific anchors. The ball is designed to easily drop into the factory-installed gooseneck hitch and secure into place with a simple, patented quarter-turn latch-lock system and retainer ball. It provides a standard 2 5/16" diameter ball to fit a variety of gooseneck trailers and offers a gross trailer weight capacity of up to 30,000 lbs. and a vertical load limit of 7,500 lbs.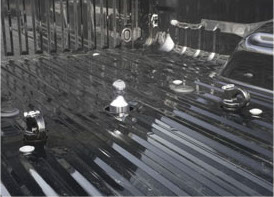 Like the OEM puck system gooseneck ball, the OEM puck system safety chain anchors are easy to install. They simply drop into the under-bed hitch platform and are secured with retainer pins. The safety chain anchors require no tools for installation, and because they can be removed so quickly, you can easily convert your truck bed back into a cargo hauler. The anchors also feature large safety chain loops to accept heavy-duty hooks.
To finish off our OEM puck system gooseneck kits and truly make them a complete package, we include a rubber ball hole cover and a storage case. The ball hole cover keeps grime and rust out of your gooseneck ball hole when the hitch is not in use, and it installs with a friction fit. The storage case is made from durable black plastic and keeps your gooseneck ball, safety chain anchors and rubber hole cover protected and all together for easy storage. The case features a convenient carrying handle and can be stored anywhere inside your truck cab or truck bed tool box.
Back to OEM Puck System Gooseneck Kits