Differences between 5th Wheel and Gooseneck Hitches
Some of the differences between gooseneck hitches and 5th wheel hitches are the coupling mechanism, the level of invasiveness in the truck bed, overall cost and the types of trailers typically pulled by each hitch.
Despite these difference, gooseneck hitches and 5th wheel hitches have many similarities. Both are used for towing heavy-duty trailers, and both require a pickup truck for installation, mounting into the truck bed, over the rear axle.
Gooseneck
Differences
Ball and coupler connection
Minimally invasive
Comparatively less expensive
Commercial towing and agriculture
Typically used for livestock trailers and flatbed trailers
Similarities
Installed into truck bed
Up to 30,000 lbs. capacity
5th wheel
Differences
Jaws and kingpin connection
Bulky with option to remove
Enhanced stability
Recreational towing
Typically used for RV travel trailers and campers
Similarities
Installed into truck bed
Up to 30,000 lbs. capacity
---
What is a gooseneck hitch?
A gooseneck hitch is a truck bed hitch that connects to a gooseneck trailer using a hitch ball. The main body of the hitch typically mounts underneath the truck bed and bolts onto the truck frame using brackets.
Gooseneck hitches are typically rated for pulling up to 30,000 lbs. and are commonly used to tow livestock trailers, horse trailers and flatbed equipment haulers.
What is a 5th wheel hitch?
A 5th wheel hitch is a truck bed hitch that couples to the kingpin of a 5th wheel trailer. Metal jaws or a locking bar secure the kingpin, and a pivoting head plate on the hitch provides the necessary movement to tow the trailer smoothly.
5th wheel hitches are available in weight capacities from 16,000 lbs. to 30,000 lbs. Their most common usage is towing RV trailers and large campers.
---
Gooseneck vs 5th wheel pros and cons list
Gooseneck and 5th wheel hitches each have their own advantages and disadvantages. Gooseneck hitches are less invasive, relatively less expensive and make it easier to free up the truck bed with smaller, lighter-weight components.
Comparatively, 5th wheel hitches generally offer smoother, quieter, more stable towing and are available in a range of weight capacities to suit a variety of trucks.
Gooseneck hitch pros and cons
Pros
Minimally invasive in truck bed once installed
Lightweight, easy-to-operate ball
Simple coupling mechanism
Great for agriculture, commercial
Convertible to 5th wheel
Cons
Hole saw drilling in truck bed
Less stability for tall trailers
Noisy compared to 5th wheel
5th wheel hitch pros and cons
Pros
Smoother, more stable towing compared to gooseneck
Variety of weight capacity options
Sliding options for short-bed trucks
Great for RVs, recreation
Convertible to gooseneck
Cons
Heavy assembly is difficult to move
Relatively more expensive
Permanent truck bed base rails
---
Advantages of a gooseneck hitch
Gooseneck hitches offer several advantages over 5th wheel hitches. First, they are far less invasive and bulky in the truck bed. Above the truck bed, a gooseneck hitch consists merely of a gooseneck ball and safety chain anchors. Many models also feature a removable or folding ball that is comparatively lightweight and easy to operate.
The coupling mechanism of a gooseneck hitch is very simple and uncomplicated, offering a solid connection for heavy-duty farm trailers, flatbeds and more.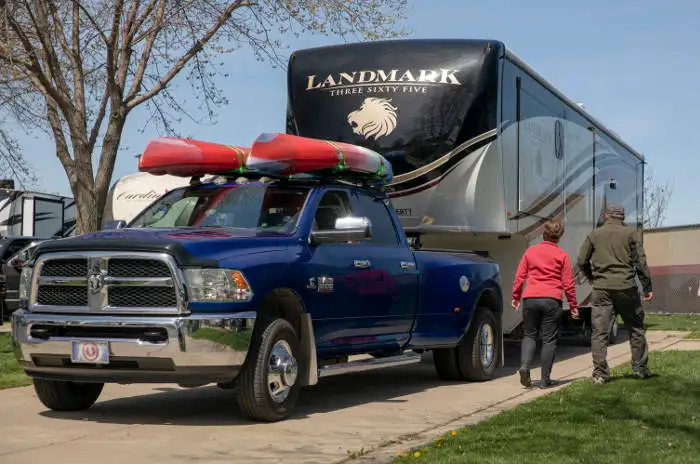 Advantages of a 5th wheel hitch
While a 5th wheel hitch may consist of more components and an overall bulkier and heavier design, this type of hitch is selected for recreational use for a reason. With a more intricate design, a 5th wheel provides generally smoother, quieter and more stable towing compared to a gooseneck hitch. This makes it ideal for RVs, campers and travel trailers.
5th wheel hitches also come in a wider variety of weight capacity options, as well as slider options. 5th wheel sliders / rollers are designed to allow short-bed trucks to tow without obstruction when turning.
---
5th wheel trailer vs gooseneck trailer
5th wheel trailer kingpin
A 5th wheel trailer uses a pin box and a kingpin to connect to the 5th wheel hitch. The kingpin inserts into the 5th wheel head, similar to a semi truck hitch.
Gooseneck trailer coupler
A gooseneck trailer has a long, vertical coupler to latch onto the gooseneck hitch ball. The coupler comes down onto the ball, similar to a bumper-pull coupler.
---
How to convert 5th wheel to gooseneck
5th wheel to gooseneck conversion is done using one of two types of products: a 5th wheel adapter plate or a 5th wheel gooseneck hitch. To convert your own towing setup, start with which hitch your truck is already equipped with.
5th wheel gooseneck hitch
To convert fifth wheel to gooseneck, a 5th wheel gooseneck hitch is the answer. Your truck must already have industry-standard 5th wheel base rails for this options. Simply drop the hitch into the rails and secured with pins. This type of hitch provides a standard gooseneck ball.
5th wheel adapter plate
If your truck has a gooseneck hitch, a 5th wheel adapter plate may be the answer. Available for select gooseneck hitches, 5th wheel adapter plates drop into the gooseneck hole and provide a set of industry-standard 5th wheel rails.
---
Gooseneck to 5th wheel adapter video
---
5th wheel to gooseneck adapter pros & cons
Pros
Ability to tow both trailer types
Easy to install on existing platform
Industry-standard rails on adapter plates
Standard ball on gooseneck adapter hitches
Cons
Reduced weight capacity (20,000 to 25,000 lbs.)
Limited gooseneck hitch compatibility
Back to Gooseneck Adapters