RV Trailer Hitches - Learn More
A CURT RV hitch is a trailer hitch that is designed to mount onto the back of a recreational vehicle to add extra cargo space or to allow a car to be flat-towed. These hitches are manufactured using CURT's quality processes of robotic welding, thorough cleaning and precise finishing. Both our RV trailer hitches and RV bumper hitches are coated with a liquid Bonderite® coating followed by a high-gloss black powder coat for lasing resistance against wear and corrosion, and both offer a 2" x 2" receiver tube opening.
CURT RV hitches are designed to fit a variety of RV styles. With two types to choose from -- an adjustable 3-piece frame-mounted style and a bumper-mounted style -- these hitches are a perfect fit for most RVs. The adjustable hitch design offers 5,000 lbs. of gross trailer weight capacity and 500 lbs. of tongue weight. It can also be used with a weight distribution hitch to bring the capacities up to 6,000 lbs. of GTW and 600 lbs. of TW. RV bumper hitches, on the other hand, allow up to 3,500 lbs. of GTW and have a tongue weight capacity of 350 lbs.
CURT RV hitches are excellent for towing a bike rack or cargo carrier behind your RV, increasing your overall cargo space. A CURT RV hitch is also great for towing recreational vehicle trailers to bring those ATVs, personal watercraft, dirt bikes or whatever toys you like to have along for the ride. Having a small car with you on your trip cross-country can be very convenient, especially for making quick runs to the grocery store or gas station. CURT RV hitches allow for the use of a tow dolly or tow bars to pull an extra vehicle dingy-style behind your RV. CURT RV hitches are not just another accessory for your camper; they are a product of smart engineering and quality construction to help you achieve that ultimate RV experience every time you hit the road.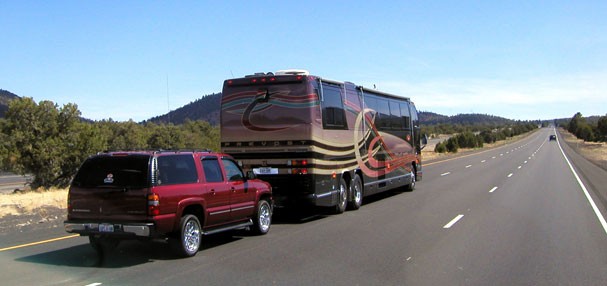 Back to RV Trailer Hitches