When you climb onto that seat and grip the handlebars, there is no feeling like it in the world. The trail winds off into forests and fields and over rocks and streams, and there is nothing to keep you from it. At CURT, we know the taste of freedom that comes with owning an all-terrain vehicle. We have experienced it ourselves, and that is why we have created an entire line of products devoted solely to ATV towing.
The CURT universal ATV cargo carrier is designed to mount on the back of your ATV and provide a generous and more secure space for your cargo. It measures 41" x 26", giving you seven and a half square feet of storage area for camping supplies, wild game, tools and whatever else you need to transport with your ATV. The CURT ATV cargo carrier also features 6 1/4" high sides to keep items more secure over bumpy trails. It features strong mesh construction and comes with mounting hardware for easy installation.
Play Video
The CURT ATV towing lineup also includes both ball mounts and tongue adapters to allow you to maximize the use of your 3-wheeler, 4-wheeler or UTV. Our ATV ball mount products are fabricated from quality steel and are given a durable gloss black powder coat to withstand the outdoor elements. Our 3-in-1 ATV ball mounts feature a 1 7/8" or 2" trailer ball for light-duty towing, a clevis pin for hooking up a clevis hook and a 5/8" diameter hole for mounting a pin-style coupler. The ball mount comes with a 2" x 2" shank to fit on any 2" x 2" receiver.
If your ATV is not equipped with a receiver tube, CURT also offers a bolt-on ATV adapter. This ball mount accessory easily mounts onto your ATV's towing platform using the included bolt and provides a 2" x 2" receiver tube to accept any number of hitch-mounted accessories. A welded-on strap ring is also included for tying on a rope or tow strap.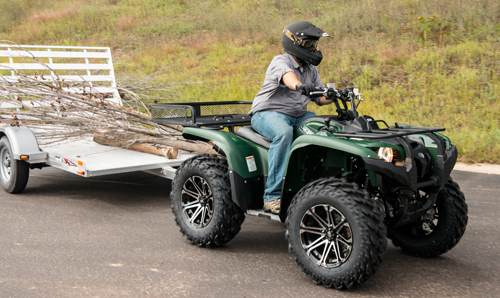 When you want the complete package to make your ATV towing ready, the ATV towing starter kit from CURT has it all. The starter kit includes our all-purpose 3-in-1 ATV ball mount to accommodate a variety of trailers and the bolt-on ATV adapter. We also include a hitch pin and clip for quick, sturdy mounting.
Wherever the trail is calling, outfitting your ATV with the CURT towing products is the only way to turn that four-wheeler into a regular workhorse. When you need to make it more than just a joyride, CURT has the tools you need to Bring It®.
Back to ATV Towing