Safe, Hassle-Free Tow Bars for Your Lifestyle
Trust the Towing Experts
CURT has been providing industry-leading towing solutions for nearly three decades. We know towing in and out. We test our products to rigorous standards because successful towing starts with safety.
Years of knowledge and experience have culminated to produce our line of tested, proven RV tow bars. CURT tow bars are expertly crafted, easy to use and reliably tough to give you the peace of mind to enjoy every mile of the road ahead.
---
Why CURT Tow Bars Are Superior
Design expertise
Years of engineering experience have been poured into the design of our tow bars, delivering superior features, such as our patent-pending, non-binding latches.
Detailed craftsmanship
Down to the smallest detail – like a fully sealed design and slide-resistant arms – CURT RV tow bars are crafted for real RVers and everyday road warriors.
Uncompromised testing
Computer testing isn't enough on its own. CURT RV tow bars are rigorously tested in real-world, physical conditions to ensure the safety of you and your loved ones.
---
Introducing the Rambler™ Steel Tow Bar #70001
The CURT Rambler™ tow bar is a unique steel tow bar hitch, engineered for ease of use and dependable dinghy towing. It features a lightweight design, simple operation and a highly tested construction for safety.
Rambler™ weighs less than 40 pounds but offers a max capacity of 7,500 pounds.
It is also quick and simple to hook up with its non-binding latches, auto-locking mechanisms, active slide-resistant arms and included safety cables.
Rambler™ Tow Bar Features & Benefits
---
CURT Tow Bars Comparison
Tow
Bar
Part
Number
Dinghy
Attachment
RV
Attachment
Weight
Capacity
Adjustable
Width
Arm
Length
Weight
Warranty
Rambler™
70001
Base plate
2" shank
7,500 lbs.
Unlimited
53.4"
39 lbs.
Limited lifetime
Coupler-style
19745
Bolt-on brackets
2" coupler
5,000 lbs.
26" to 41"
31.25"
31 lbs.
Limited lifetime
---
3 Reasons to Upgrade Your Tow Bar
1. Hassle-free handling
The CURT Rambler™ flat tow bar is unlike other steel tow bars. With a total weight of only 40 pounds, it is easy and ergonomic to lift, carry and install.
It also features patent-pending, non-binding latches for hassle-free release of your vehicle on uneven terrain.
Installing the Rambler™ is safe and controlled with its active, slide-resistant arms. The arms won't slide out haphazardly, damaging your car or bumper like competitive models.
2. Intuitive operation
Connecting your dinghy vehicle to your RV is fast and stress-free with the Rambler™ auto-locking design.
The latches quickly hook up to your base plate without manual locking required.
Unlike other motorhome towbars, Rambler™ provides three stowing positions. The arms fold to the right, left or apart, allowing you to adapt the design to your specific RV without obstruction.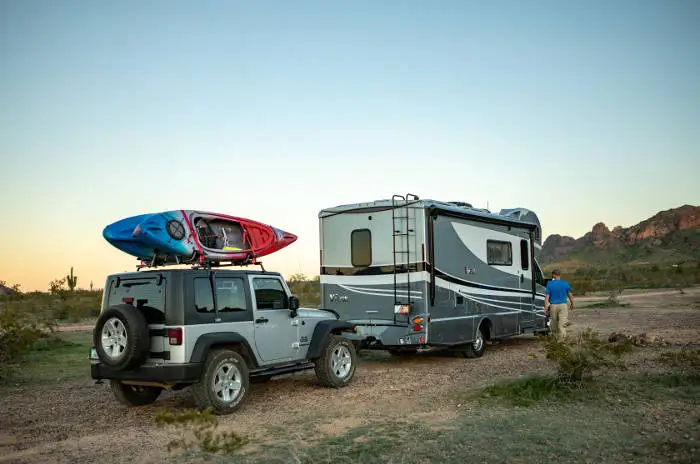 3. Peace of mind
Enjoy the adventure without stress! The CURT Rambler™ undergoes rigorous physical testing to ensure a safe tow for you and your fellow adventurers.
This tow bar hitch is also fully sealed, giving it an edge against the outdoor elements for long-lasting, smooth operation.
The Rambler™ is tested and rated as a heavy duty tow bar for pulling up to 7,500 pounds.
Tow Bars for Trucks, Jeeps, SUVs and More
CURT tow bars can be used for towing a variety of vehicles and are much easier to use compared to an RV tow dolly. They can function as a car tow bar, Jeep tow bar or tow bar for trucks. Simply install the correct vehicle-specific base plates on the front of your vehicle.
Our adjustable tow bar design quickly and conveniently adapts to your vehicle, snapping into the attachment tabs without the need for time-consuming adjustments.
---
FAQs
Does CURT offer accessories to complete my dinghy towing setup?
Yes, we offer base plates, wiring, security cables and other accessories to outfit your setup. CURT is expanding the offering soon with additional electrical plugs, fuses and adapters. Check out this helpful dinghy towing guide to determine everything you need to dinghy tow.
Are CURT tow bars compatible with competitive base plates?
CURT is continuing to develop the widest application-specific base plate offering. However, if we do not have your specific model, the Rambler™ tow bar is compatible with Blue Ox attachment tabs.
Why are the quick links stamped WLL880lbs?
The quick links are stamped WLL880lbs because this is the working load limit for a component under tension. Since the quick links are used in combination with safety cables, they use the component's breaking strength. The (WLL) Working Load of the quick link is 20% of the component's Breaking Strength. The Breaking Strength for each quick link is 4,400 lbs.
---
---
THE FIRST NAME IN TOWING PRODUCTS
CURT, a CURT Group brand, offers a complete line of towing products and is the leading manufacturer of USA-made custom-fit trailer hitches. We offer the broadest selection of custom-fit receiver hitches for nearly every vehicle on the road today. We also offer gooseneck, 5th wheel and weight distribution hitches, as well as electrical components, ball mounts, trailer balls, cargo carriers, bike racks and other towing accessories. For everything from passenger cars and vans to full-size pickups and SUVs, CURT is "The First Name in Towing Products."