CURT Wins SEMA Best Exterior Accessory Award Two Years in a Row
Universal Tri-Ball Coupler Lock #23082 Fits All Standard Coupler Sizes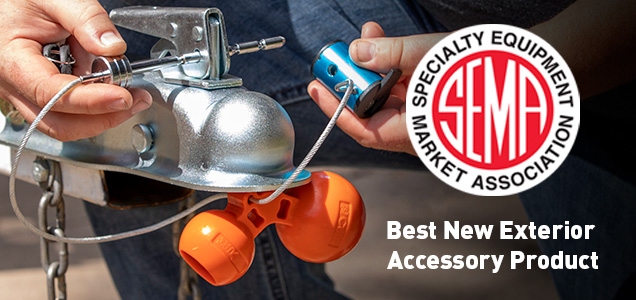 Eau Claire, WI – November 4, 2020 – CURT, supplier of a complete line of towing products and the leading manufacturer of USA-made custom-fit trailer hitches, has won its second consecutive SEMA award in the category of Best Accessory. The new universal tri-ball coupler lock #23082 was announced as the winner of the SEMA 2020 Best New Exterior Accessory.
CURT is now a SEMA award winner two years in a row. Last year, the CURT BetterWeigh™ mobile towing scale #51701 took home the 2019 Best Exterior Accessory Award. This year, the same award has been given to the new tri-ball lock.
The CURT universal tri-ball coupler lock #23082 is a unique approach to trailer security. The tri-ball component allows the lock to fit virtually all standard coupler sizes: 1-7/8", 2" and 2-5/16". Additionally, it can be used whether the trailer is hooked up for towing or left unattended.
One of the most unique security features of this new lock is its built-in breaking points. If a potential thief is determined enough to strike the lock in an attempt to break it, the tri-ball is equipped with safety points that break off at the base under enough force. This leaves the ball inserted in the coupler, continuing to prevent unwarranted trailer hookup.
To learn more, watch our video of the universal tri-ball coupler lock!
About CURT: CURT, a CURT Group brand and subsidiary of Lippert Components, Inc., offers a complete line of towing products and is the leading manufacturer of USA-made custom-fit trailer hitches. We offer the broadest selection of custom-fit receiver hitches for nearly every vehicle on the road today. We also offer gooseneck, 5th wheel and weight distribution hitches, as well as electrical components, ball mounts, trailer balls, cargo carriers, bike racks and other towing accessories. For everything from passenger cars and vans to full-size pickups and SUVs, CURT is 'The First Name in Towing Products.'
Media Contact:
Stephanie Pohnl
marketing@curtgroup.com
715.838.4041