CURT Launches NO-SPLICE, Protective MultiPro™ / Multi-Flex™ Tailgate Sensor
Compatible with Virtually Any Ball Mount or Hitch Accessory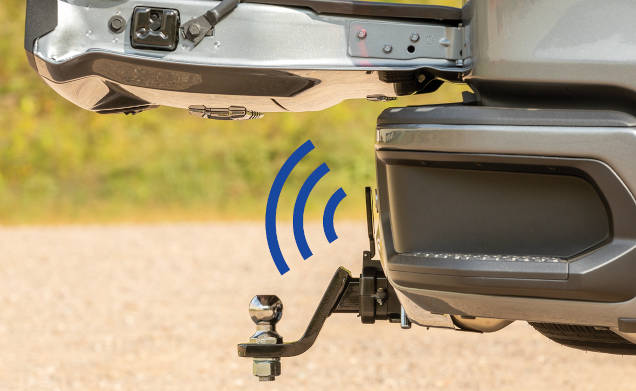 Eau Claire, WI – December 7, 2020 – CURT, supplier of a complete line of towing products and the leading manufacturer of USA-made custom-fit trailer hitches, has launched an all-new towing solution for the GMC MultiPro™ and Chevrolet Multi-Flex™ tailgates. Unlike competitive options, the solution requires no wire cutting or splicing on the truck. Instead, it uses a factory-style wiring harness to plug into OEM sockets.
The new CURT protective tailgate sensor helps prevent costly and unnecessary damage to the new GMC Sierra and Chevrolet Silverado tailgates. Once installed, it prevents the inner tailgate panel from dropping down while a ball mount or other towing accessory is installed in the receiver. It allows for full use of the truck's cargo and towing capabilities without risking an expensive repair.
The CURT tailgate sensor is uniquely engineered for an easy, no-splice installation, while retaining full use of the truck's hitch. The sensor includes a vehicle-specific wiring harness to plug into the factory connectors, and it requires no additional electronics or batteries to operate. The CURT sensor can be used with virtually any ball mount that fits the receiver tube. It also functions as a hitch cap to protect the receiver when not in use.
The CURT protective MultiPro™ / Multi-Flex™ tailgate sensor will be available in standard 2" (#58265) and 2-1/2" (#58266) options. Parts can be pre-ordered today and are set to be in stock near the end of December 2020.
To learn more, visit our MultiPro™ / Multi-Flex™ tailgate landing page.
About CURT: CURT, a CURT Group brand and subsidiary of Lippert Components, Inc., offers a complete line of towing products and is the leading manufacturer of USA-made custom-fit trailer hitches. We offer the broadest selection of custom-fit receiver hitches for nearly every vehicle on the road today. We also offer gooseneck, 5th wheel and weight distribution hitches, as well as electrical components, ball mounts, trailer balls, cargo carriers, bike racks and other towing accessories. For everything from passenger cars and vans to full-size pickups and SUVs, CURT is 'The First Name in Towing Products.'
Media Contact:
Stephanie Pohnl
marketing@curtgroup.com
715.838.4041