CURT Adds Vehicle-Specific RV Harnesses Unique for Dinghy Towing
Towed Vehicle Harnesses Offer a Custom Fit with No Splicing Required
Towed Vehicle Harnesses Offer a Custom Fit with No Splicing Required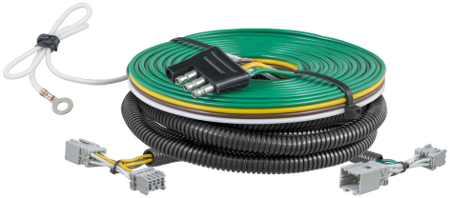 Eau Claire, WI -- June 19, 2017 -- CURT, the leading manufacturer of USA-made hitches and a complete line of towing products, has added a new line of towed-vehicle RV harnesses to its electrical offering. Over the past year, we have put new effort into expanding our RV and heavy-duty lines, and these vehicle-specific harnesses are an exciting new chapter in that effort.
A towed-vehicle RV harness is very similar to a CURT custom wiring harness. They are designed to "T" into the vehicle's electrical system, using OEM-compatible plugs, and provide a standard 4-way flat connector. However, instead of using this connector to plug in the trailer wiring, the vehicle is able to plug into an RV for dinghy towing. In essence, it allows the vehicle to become a trailer, synchronizing its taillights, turn signals and brake lights with the RV.
Every CURT towed-vehicle RV harness is made vehicle-specific to provide a custom fit on each application. The OEM-compatible connectors are plug-and-play, eliminating the need for cutting, splicing and soldering. Each RV harness also comes with a 4-way flat extension cable, zip ties for securing the wires, and a socket mounting bracket for attaching the connector at the front of the vehicle, under the hood.
To see a full list of applications for CURT RV harnesses, click here.
---
About CURT: CURT, a CURT Group brand, is the leading manufacturer of USA-made hitches and a complete line towing products. We offer the broadest selection of custom-fit receiver hitches for nearly every vehicle on the road today. We also offer gooseneck, 5th wheel and weight distribution hitches, as well as electrical components, ball mounts, trailer balls, cargo carriers, bike racks and other towing accessories. For everything from passenger cars and vans to full-size pickups and SUVs, CURT is 'The First Name in Towing Products.'
About CURT Group: CURT Group is a leading sales, marketing, engineering and distribution company of towing products and truck accessories for all types of vehicles, from passenger cars to commercial trucks. Our family of brands includes CURT, ARIES, LUVERNE Truck Equipment, RETRAC and UWS. We are a team of more than 1,000 associates world-wide, with manufacturing plants in Wisconsin, South Dakota, Florida and the Philippines, and 10 regional warehouses across the United States and Canada. We stand for EXCELLENCE in our products and our associates. We aspire to be the industry LEADER by recognizing that the customer is KING and our associates are our greatest ASSET.