All-New Brake Controller with Easy-to-Read, Dynamic Screen
Assure™ Provides Full-Text Readout, Smooth Braking, Unobtrusive Design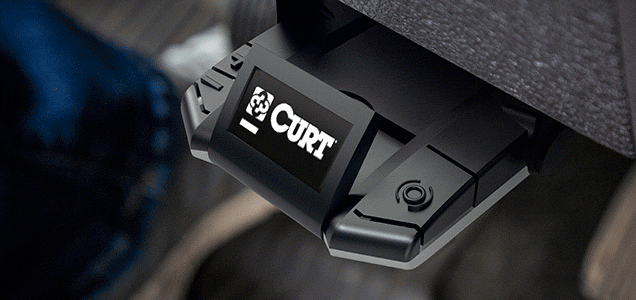 Eau Claire, WI – March 1, 2021 – CURT, supplier of a complete line of towing products and the leading manufacturer of USA-made custom-fit trailer hitches, has launched an all-new brake controller with an easy-to-read, dynamic screen, designed to promote easier setup and operation with full-text readouts.
The Assure™ brake controller #51160 is powerful, compact and user-friendly. It takes a new approach to the brake controller interface compared to the traditional digital numbers and light-up LEDs. Assure™ has a 1-1/2" flip-up screen that displays simple, straightforward messages for trailer brake setup and monitoring. No more deciphering cryptic numbers or blinking lights!
Assure™ also features tactile buttons with a unique pressure-sensitive manual override, allowing for the right amount of braking power you need, when you need it. Its overall footprint is compact to remain unobtrusive on the dash of the vehicle. Assure™ is built around a powerful, triple-axis accelerometer for highly responsive, smooth braking, and it offers a plug-and-play installation on most vehicles, using a CURT vehicle-specific quick plug wiring harness.
Watch the video on the CURT Assure™ landing page!
About CURT: CURT, a CURT Group brand and subsidiary of Lippert Components, Inc., offers a complete line of towing products and is the leading manufacturer of USA-made custom-fit trailer hitches. We offer the broadest selection of custom-fit receiver hitches for nearly every vehicle on the road today. We also offer gooseneck, 5th wheel and weight distribution hitches, as well as electrical components, ball mounts, trailer balls, cargo carriers, bike racks and other towing accessories. For everything from passenger cars and vans to full-size pickups and SUVs, CURT is 'The First Name in Towing Products.'
Media Contact:
Stephanie Pohnl
marketing@curtgroup.com
715.838.4041