If you are replacing a broken coupler on your trailer or installing a new one, CURT has dependable products you can trust to keep your trailer latched on tight. Selecting the right trailer hitch, ball mount and trailer ball to manage the weight of your trailer is not the only important aspect of towing; you also need a trailer that can stand up to the road ahead. That means equipping it with a coupler that is built to go the distance.
CURT couplers come in three different varieties: straight-tongue couplers, A-frame couplers and channel mount couplers. All of them include a three-year warranty and feature a alockable latch to accept a coupler lock for added peace of mind.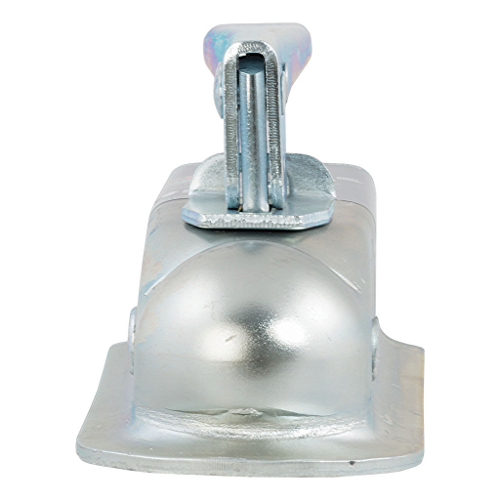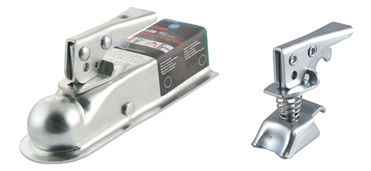 Straight-Tongue Couplers
CURT straight-tongue couplers, featuring our posi-lock latch, are one of the most common types of trailer couplers. With a mounting channel designed to fit onto a trailer frame beam, these couplers are easy to install. They are made from strong steel construction and have a durable zinc finish to resist corrosion.
The lockable latch mechanism on our straight-tongue couplers is simple to operate and can accept one of our coupler locks. We carry straight-tongue trailer couplers with gross trailer weight capacities ranging from 2,000 to 5,000 lbs. and with ball diameters of 1 7/8" or 2".
A-Frame Couplers
As the name indicates, CURT A-frame couplers are meant to mount onto A-frame trailers. An A-frame trailer is one with a frame that meets in an A shape at the front end. CURT A-frame couplers are generally rated higher than straight-tongue couplers, making them especially common for RV trailers.
We offer three latch options for our A-frame couplers, including posi-lock, easy-lock and sleeve-lock. CURT A-frame couplers range in towing capacity from 5,000 lbs. to 12,500 lbs. and have ball diameters of either 2" or 2 5/16".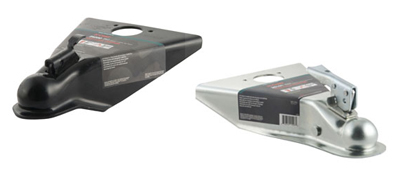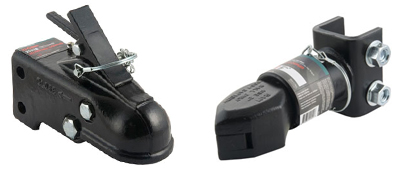 Providing the highest weight capacity and the most versatility, CURT adjustable channel mount couplers are a unique option for your trailer. This type of coupler does not bolt onto a trailer's frame the same way that a standard coupler does. It uses a pair of bolts to mount onto an adjustable eye channel to allow for easy height adjustment. The two attachment bolts also provide greater stability and less rattle.
CURT adjustable channel couplers are available in either a sleeve-lock or easy-lock style. They come with a durable gloss black powder coat finish for corrosion resistance and range in towing capacity from 7,000 lbs. to 15,000 lbs. with 2" and 2 5/16" ball diameters available.
Back to Category