Even with the roomiest of vehicles, packing the car for a long trip can quickly turn into a frustrating game of Tetris. CURT cargo carriers are a simple yet effective solution for maximizing the storage area of your vehicle.
The advantage of a hitch-mounted cargo carrier is that it can be mounted on the rear or front end of the vehicle as long as the vehicle is properly equipped with the right trailer hitch. Mounting a cargo carrier in the front opens up the rear receiver hitch for towing a trailer or adding a second carrier or bike rack if needed. The hitch-mounted design also makes installation quick and easy.
CURT has two types of hitch-mounted cargo carriers.
Play Video
Tray-Style Cargo Carriers
The first hitch-mounted cargo carrier from CURT is a mesh, bolt-together, tray-style carrier. We offer four different models of the tray-style: three with a 2" x 2" shank and a little over eight square feet of storage space, and one with a 1 1/4" x 1 1/4" shank and about six and a half square feet of storage space. You can also choose from strong carbide steel or a lightweight aluminum option.
Tray-style cargo carriers are versatile and simple to use. They have holes along the outer edge for mounting a cargo net or bungees, making it easy to keep items secure, and there is also a folding option on two of the models to fold up and out of the way when the cargo carrier is not in use.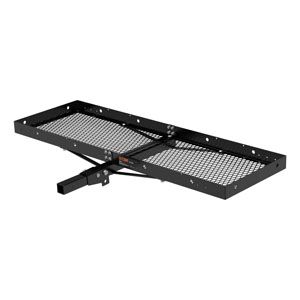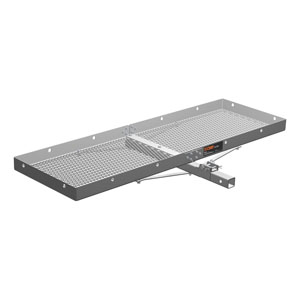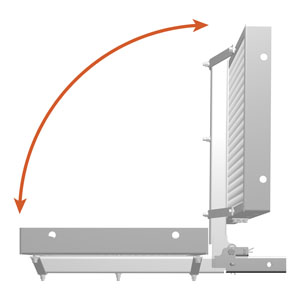 Basket-Style Cargo Carriers
The second hitch-mounted cargo carrier is the basket-style. Like the tray-style, the basket cargo carrier features a bolt-together design. CURT has five different models of the basket-style with 2" and 1 1/4" shank options. All CURT basket carriers are made with heavy-duty carbide steel and have a tubular construction for increased strength.
One of the advantages of the basket style is its 6" high sides. These provide extra security and peace of mind during travel. Of the five CURT basket-style carriers, two offer a little over eight square feet of storage area, two offer ten square feet of storage area, and the adapter sleeve model offers a little over six and a half square feet of storage area. The fold-up option is also available on certain models.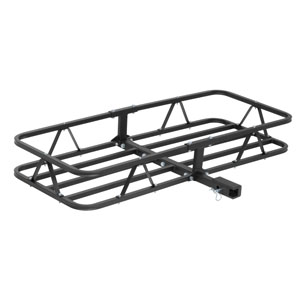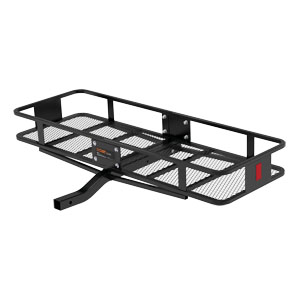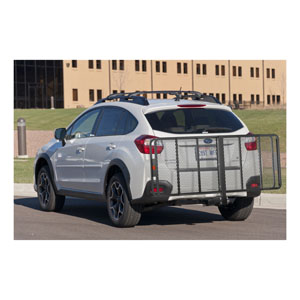 Roof Rack Cargo Carrier
While hitch-mounted cargo carriers are extremely helpful for maximizing vehicle storage space, you may prefer an alternative. The CURT roof rack cargo carrier is a roomy and versatile cargo carrier with a lightweight design and easy installation. It features a simple two-piece assembly and mounts to most styles of roof rack base rails.
One of the key advantages to the CURT roof basket is its extension option. With the extension piece installed, this cargo carrier goes from a little over ten square feet of storage room to an impressive 16 square feet, providing lots of extra room for storing bulkier items.
The roof rack cargo carrier readily accepts a CURT cargo bag or cargo net to get you packed up and on your way with less hassle.
Whether you prefer the hitch-mounted carrier or the roof rack option, CURT has cargo management solutions to meet your needs.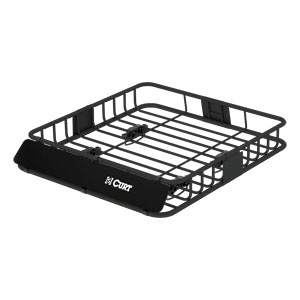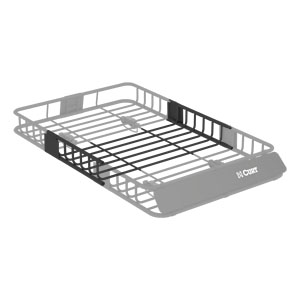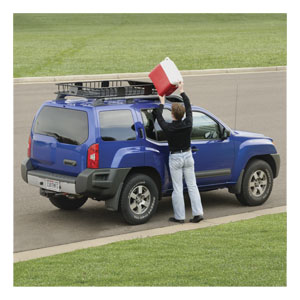 Back to Category