Benefits of surface mount technology (SMT):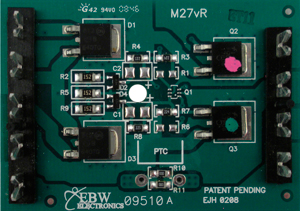 Ours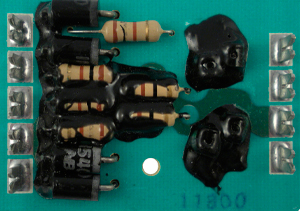 Theirs
High-quality SMT components create very little resistance, reducing heat, limiting voltage drop and extending life.
SMT manufacturing is automated, ensuring high reliability and consistency.
SMT circuitry efficiency ensures maximum trailer light intensity and life.
SMT circuits are optically tested and load tested before being used in a wiring harness. They are also load tested again before being packaged and shipped.
SMT offers improved mechanical performance under shake and vibration conditions, common while towing.

In addition to using top-quality components, CURT is proud to say that 100% of our custom vehicle-to-trailer wiring harnesses and converters are put through a variety of electrical testing, and most of them are made right here in the USA. Every unit is tested on an automated sequence tester to verify complete functionality on all components.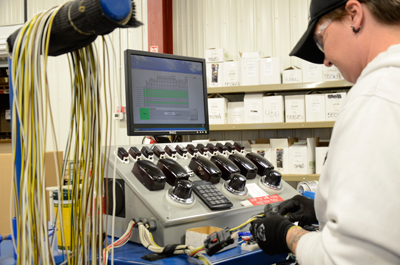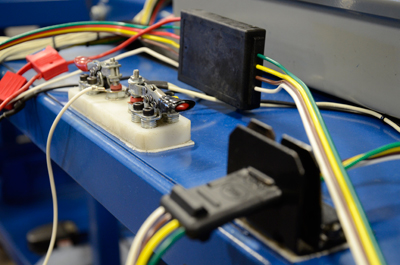 CONNECTORS
CURT electrical connectors feature bonded wires and molded rubber construction. They are available in everything from 2-way flat to 7-way round. All of our connectors are available for both the trailer end and car end, and we also carry a number of adapters that allow you to connect your trailer to your vehicle when the two have differing connector types.
Hooking up the electrical components on your trailer is an important part of towing safety. It is especially crucial to understand the electrical systems of your towing rig when you are hauling an RV or large trailer with electric brakes. With additional components, however, come more complicated wiring systems. The simplest trailers use four wires to control tail lights, brake lights and turn signals. Trailers with five, six or seven-wire plugs add backup lights, electric brakes and auxiliary power. The guide below describes the variety of connectors used in the towing industry and shows the consistency of wire function across the different connector types.
4-Way Connectors
4-way connectors are designed to provide the basic lighting functions required for towing: brake lights, turn signals and tail lights. They are available in flat or round plug styles and can typically be found on small boat trailers and utility trailers.
| | | |
| --- | --- | --- |
| | | |
| 4-Way Flat | | 4-Way Round |
| | | |
| | | |
5-Way Connectors
Flat 5-way connectors are very much like 4-way connectors. In addition to brake lights, turn signals and tail lights, however, a 5-way connector provides a connection for the reverse lights or backup lights. This is especially useful on many larger boat trailers that come with surge brakes.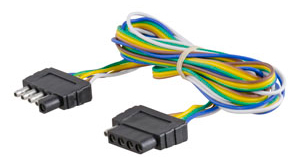 5-Way Flat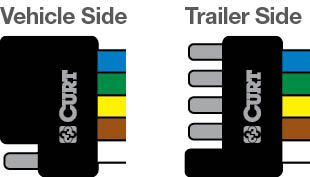 6-Way Connectors
Like 4-way connectors, 6-way connectors are available in two plug styles, square and round. 6-way connectors provide connection for brake lights, turn signals, tail lights, electric brakes and an additional 12-volt connection for reverse lights. 6-way connectors are most common on gooseneck trailers but can also be found on large boat trailers, utility trailers, campers and 5th wheel trailers.
| | | |
| --- | --- | --- |
| | | |
| 6-Way Square | | 6-Way Round |
| | | |
| | | |
7-Way Connectors
Along with the main functions offered by smaller connectors (brake lights, turn signals, tail lights, electric brakes and reverse lights), the 7-way connectors provide a wire to run auxiliary power. This is especially useful for towing an RV. A variation of the 7-way round connector is the 7-way RV blade connector, made specifically with recreational vehicles in mind. 7-way RV blades can be used with large boat trailers, utility trailers, 5th wheels and gooseneck trailers.
| | | |
| --- | --- | --- |
| | | |
| 7-Way Round | | 7-Way RV Blade |
| | | |
| | | |
ADAPTERS
The connection from your vehicle to your trailer may not always be an exact fit. For just such occasions, CURT offers several different adapters that allow opposing plug types to be joined together. The chart below identifies which adapter is needed to bridge the connection between two different plug types.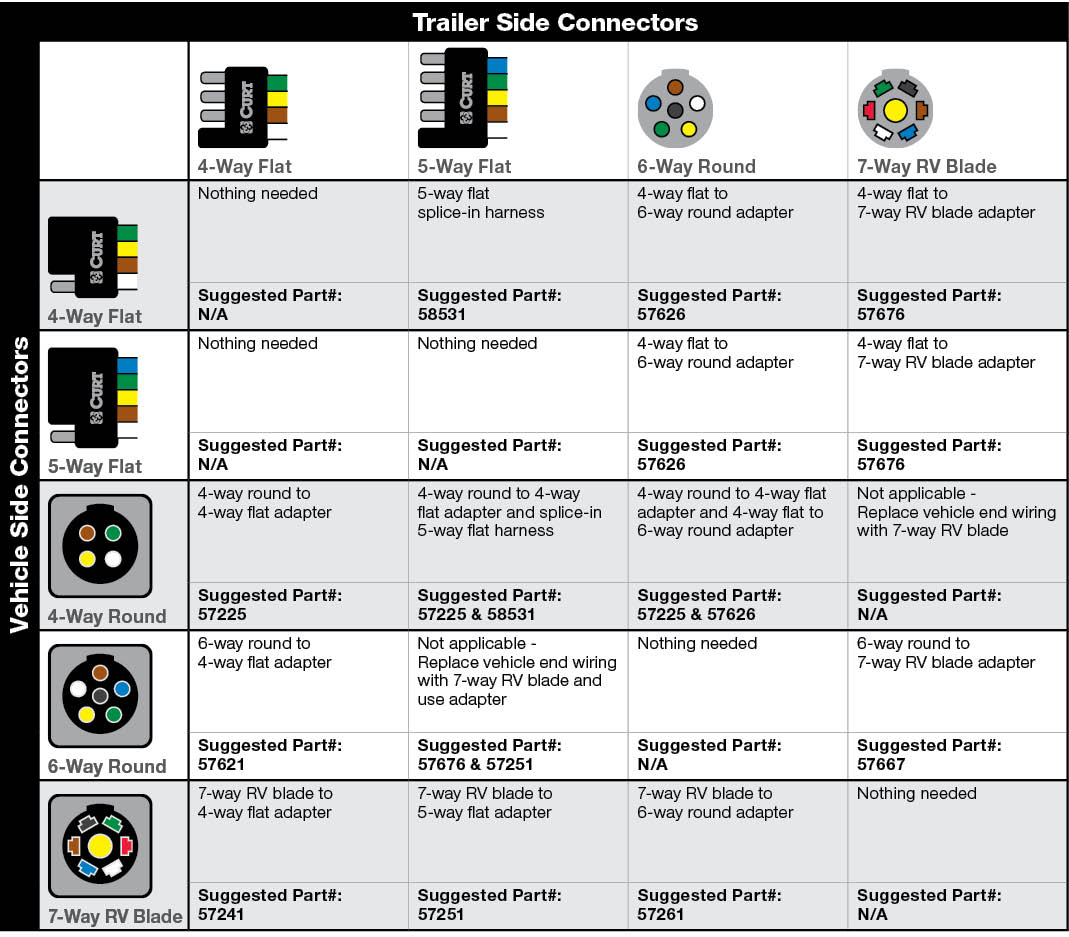 CONVERTERS
CURT converters are designed to convert a 3-wire electrical system on a vehicle down to a standard 2-wire trailer light system. Often times, a vehicle is equipped with separate wiring for turn signals and brake lights. Because many trailers operate on a simpler system, a direct connection from the vehicle's 3-wire system to the trailer's 2-wire system is not possible. A CURT converter offers a quick, simple solution by making this connection possible.
BRAKE CONTROLS
While connectors and adapters are essential for successful towing, CURT's line of towing electrical products extends far beyond the bare essentials. One of our most exciting product lines is our electric brake controls. The CURT brake control line, spearheaded by the TriFlex inertia-activated brake control, offers a number of braking solutions for hauling larger, heavier loads. A brake control system works on trailers with built-in electronic brakes to effectively stop the trailer as you stop the vehicle. The TriFlex features a triple-axis, motion-sensing accelerometer that provides precise, dynamic power adjustment when going up or down an incline. The nine levels of sensitivity adjustment allow you to fine-tune your brakes for varying trailer loads and driving conditions. The CURT TriFlex is compatible with low-voltage or pulse-width modulation (PWM) systems and mounts at a variety angles for an ideal fit on your dash.

When purchasing a brake control for your vehicle, it is necessary to also buy the correct brake control harness. A brake control harness is essentially an electrical component that allows you to plug your brake controller into your specific vehicle type. CURT brake control harnesses are available for most makes and models and eliminate the need for complicated splicing.
OTHER ELECTRICAL
CURT also offers fuses, circuit breakers, mounting brackets, terminals and custom vehicle-to-trailer wiring harnesses to meet any electrical need you might have while towing. Our custom vehicle-to-trailer wiring harnesses allow you to avoid splicing by providing OEM original-equipment connectors to plug directly into your vehicle's electrical system. This provides an instant connector for your trailer, while still allowing proper power to be supplied to your vehicle. We carry custom vehicle-to-trailer wiring harnesses, or T-connectors, for plugs from 4-way flat to 7-way round. We also have tail light converters to adapt your vehicle's electrical system to standard trailer light wiring, and push-to-test breakaway kits that help maintain safety in the event that your trailer becomes disconnected from your trailer hitch.
CURT Manufacturing is your one-stop shop for towing electrical. Whether you are having trailer light problems or just need to properly equip your vehicle, we have everything you need for a safe, successful tow.
< See Less