SELECTING A TRAILER BALL
There are many factors that go into determining the correct trailer hitch ball for your ball mount and trailer. There is no standard trailer ball size that fits every application. A trailer ball must be strong enough for the load you are towing, and it must fit your specific towing setup. When selecting a trailer ball, you must consider platform thickness, hole size, coupler size and weight rating.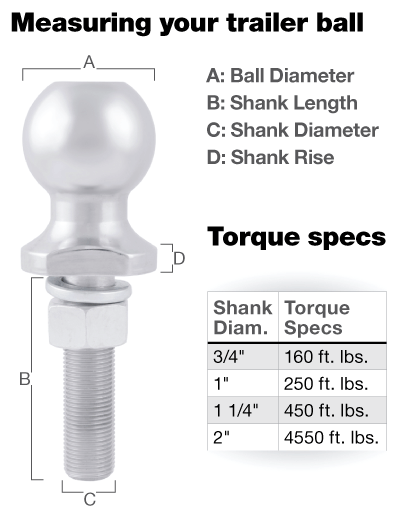 Platform Thickness
The ball mount platform is the tab or bracket on a ball mount that the trailer ball mounts onto using the threaded shank and nut. As a rule, the mounting platform on the ball mount must be at least 3/8 IN thick in order to be deemed safe for towing.
Hole Size
A trailer ball is mounted onto a ball mount by sliding the shank into the hole in the ball mount platform. The shank diameter must always match the diameter of the platform hole. The hole cannot be more than 1/16 IN larger than the diameter of the threaded shank or the trailer will not tow properly.
Coupler Size
The coupler, or tongue, is the front-most portion of the trailer that rests on the trailer ball. It is imperative that you know your coupler size before purchasing a trailer ball because the size of the trailer ball must match the size of the coupler. Without a proper fit, it is not safe to tow. Trailer couplers are not all the same size. The coupler size will typically be stamped right on the coupler itself.
Weight Rating
Different trailer hitch balls are designed to handle different amounts of weight. In general, a trailer ball with a larger ball diameter will be able to handle more weight than one with a smaller ball diameter. When deciding which trailer ball will best serve your needs, it is important to know how much weight you will be towing. The trailer ball must be capable of towing the gross trailer weight. Trailer balls with 1 7/8 IN diameters range in capacity from 2,000 to 3,500 lbs. 2 IN diameter trailer balls range from 3,500 to 10,000 lbs. 2 5/16 IN trailer balls can be anywhere from 6,000 to 30,000 lbs, and 3 IN diameter trailer balls max out 30,000 lbs. Check for a weight rating on the specific trailer ball you choose before making a purchase.
TORQUE SPECS
An important part of towing safety is making sure your trailer ball is securely mounted to your ball mount. Simply turning the nut until it seems tight is not a smart solution. Unless you purchase a ball mount with a fixed trailer ball, such as on Euro Mounts or Fusion ball mount, the trailer ball needs to be tightened to a certain torque setting in order to prevent the nut from vibrating loose. For each trailer ball shank diameter there is a different torque specification required. The diagram above provides a list of trailer ball torque specs based on shank diameter. When installing or switching between trailer balls, use a torque wrench to administer the proper amount of torque on the nut.
SWITCH BALLS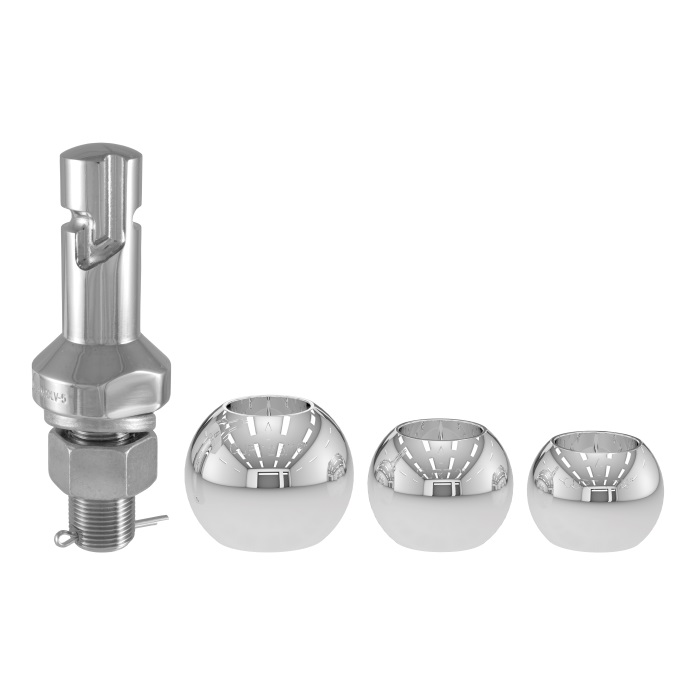 More than likely, you own more than one trailer. Just because you can tow your boat trailer, utility trailer and popup camper all on the same vehicle does not mean they all fit onto the same trailer ball. It can be a hassle to switch back and forth between ball mounts to accommodate multiple trailers. For this common problem, CURT offers the Switch Ball trailer ball. Made with premium grade, nickel-chrome-plated steel, the CURT Switch Ball is a trailer ball shank that accepts different size trailer balls with a simple twist-on action. The exclusive J-groove design of the Switch Ball ensures a secure system without the need for tools or pins. The weight of the trailer rests on the shank, taking stress away from the ball and freeing the coupler from friction and binding. Though Switch Ball trailer balls only have a weight capacity from 3,500 up to 8,000 lbs depending on the ball diameter, they are incredibly useful for changing between couplers on small to mid-size trailers.
CURT carries a number of accessories to go along with our trailer balls. We offer rubber trailer ball covers to help protect your trailer ball from the elements when not towing, reducer bushings to provide an easy way to reduce the size of a ball mount hole to fit a smaller trailer ball shank, and replacement parts such as nuts and washers in case these parts are lost or stolen. With so many trailer ball options to choose from, it is no wonder that CURT is your go-to supplier for all things towing.
< See Less