CURT Introduces New Highly Secure Tray-Style Bike Racks
Ratcheting Arms and Fat-Tire Accessory Bring Enhanced Security and Versatility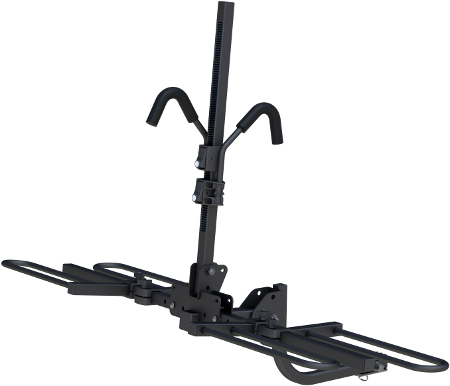 Eau Claire, WI -- July 10, 2017 -- CURT, the leading manufacturer of USA-made hitches and a complete line of towing products, has released two new tray-style bike racks as well as an accessory for the tray-style bike rack line. These exciting items bring a new level of security and versatility to an already highly functional design.
The #18085 and #18087 are two new tray-style bike racks from CURT. They feature the same adjustable cradle system as our other tray-style bike racks to hold a wide variety of bikes, as well as the same ergonomic design for easy loading and unloading of bikes.
However, these two new bike rack models boast an additional feature: ratcheting arms.
These new bike racks also feature padded arms to prevent damage to the bike frames. They are available in two capacities: #18085 to hold up to two bikes and #18087 to hold four bikes.
The all-new tray-style bike rack cradles for fat tires #18091 make the CURT tray-style bike rack even more versatile, allowing it to hold a wider variety of bikes. They feature an inside width of 4 7/8" and an inside length of 17". The cradles are designed to hold the fatter tires and work in conjunction with the padded vertical arm to keep the bike fully secure without marring its finish. The cradles feature durable powder-coated steel construction for strength and long-lasting rust resistance.
CURT fat-tire bike rack cradles fit all CURT tray-style bike racks, including our two new ratcheting models. They easily mount into place, using the included threaded knobs, and they are sold in pairs to hold one bike per pair.
To learn more about CURT tray-style bike racks, click here.
---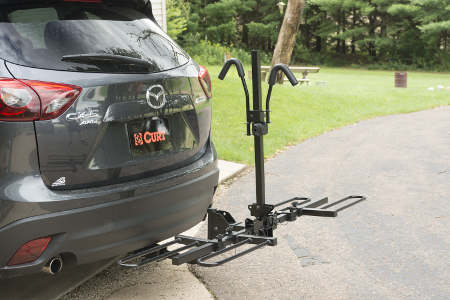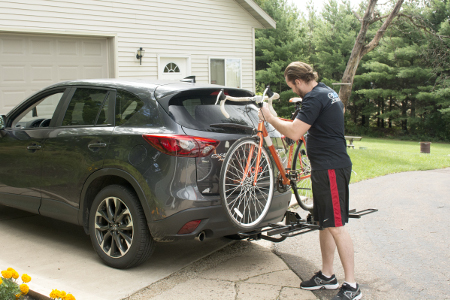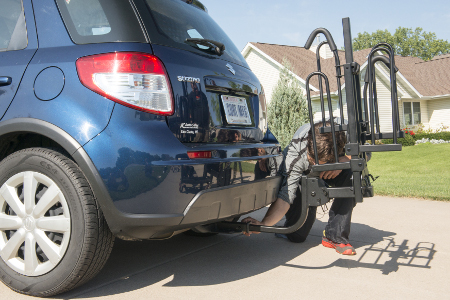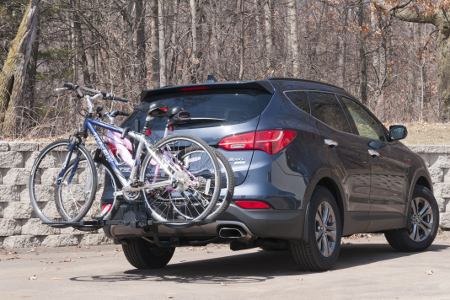 About CURT: CURT, a CURT Group brand, is the leading manufacturer of USA-made hitches and a complete line towing products. We offer the broadest selection of custom-fit receiver hitches for nearly every vehicle on the road today. We also offer gooseneck, 5th wheel and weight distribution hitches, as well as electrical components, ball mounts, trailer balls, cargo carriers, bike racks and other towing accessories. For everything from passenger cars and vans to full-size pickups and SUVs, CURT is 'The First Name in Towing Products.'
About CURT Group: CURT Group is a leading sales, marketing, engineering and distribution company of towing products and truck accessories for all types of vehicles, from passenger cars to commercial trucks. Our family of brands includes CURT, ARIES, LUVERNE Truck Equipment, RETRAC and UWS. We are a team of more than 1,000 associates world-wide, with manufacturing plants in Wisconsin, South Dakota, Florida and the Philippines, and 10 regional warehouses across the United States and Canada. We stand for EXCELLENCE in our products and our associates. We aspire to be the industry LEADER by recognizing that the customer is KING and our associates are our greatest ASSET.
< Back to News