Two New, Innovative Brake Controls to Be Shown at SEMA
In-Dash for OE Look and Feel; OLED Screen for High-Quality Readouts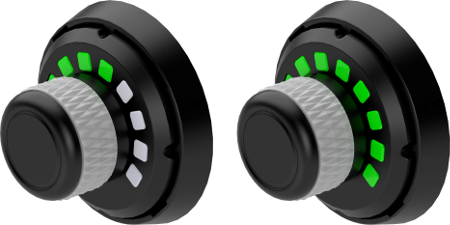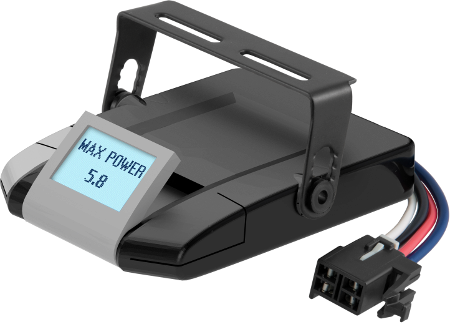 Eau Claire, WI -- October 27, 2017 -- CURT, the leading manufacturer of USA-made hitches and a complete line of towing products, will be showcasing two new, innovative brake controls at the 2017 SEMA Show in Las Vegas (booth #34017). The Spectrum™ is an in-dash unit for an unprecedented OE look and feel, and the Assurr™ features a high-quality OLED display screen.
The new Spectrum™ brake control #51170 is comprised of a dynamic user interface and a separate main module. The interface is a simple rotary knob with an integrated push-button and ten tri-color LEDs. It mounts on the dash of the vehicle for a clean, unobtrusive, OE look. This single knob allows the driver to control and monitor all trailer brake activity. No other controls or displays are needed. The separate main module of the Spectrum™ mounts behind the dash, out of sight.
The new Assure™ brake control #51160 features a professional-grade interface and has a unique manual override feature. It has a 128 x 64 dot matrix OLED display screen that shows trailer brake activity in a full message readout for enhanced usability. The display can also be flipped up at multiple angles for the best possible view. The manual override of the Assure™ brake control allows power to be applied any time and in any amount, giving the driver more control on the road.
Both the Spectrum™ and Assure™ operate with a triple-axis accelerometer, providing highly responsive, smooth stops on any grade. They also install easily with any of our vehicle-specific quick plug harnesses.
Looks for these new products and more at the 2017 SEMA Show in Las Vegas. The CURT Group booth number is #34017.
---
About CURT: CURT, a CURT Group brand, is the leading manufacturer of USA-made hitches and a complete line of towing products. We offer the broadest selection of custom-fit receiver hitches for nearly every vehicle on the road today. We also offer gooseneck, 5th wheel and weight distribution hitches, as well as electrical components, ball mounts, trailer balls, cargo carriers, bike racks and other towing accessories. For everything from passenger cars and vans to full-size pickups and SUVs, CURT is 'The First Name in Towing Products.'
About CURT Group: CURT Group is a leading sales, marketing, engineering and distribution company of towing products and truck accessories for all types of vehicles, from passenger cars to commercial trucks. Our family of brands includes CURT, ARIES, LUVERNE Truck Equipment, RETRAC and UWS. We are a team of more than 1,000 associates world-wide, with manufacturing plants in Wisconsin, South Dakota, Florida and the Philippines, and 10 regional warehouses across the United States and Canada. We stand for EXCELLENCE in our products and our associates. We aspire to be the industry LEADER by recognizing that the customer is KING and our associates are our greatest ASSET.
< Back to News