New CURT Multi-Fit Hitches Ideal for Retailers
Nearly All Full-Size Pickups from '99 to '17 Covered by Two SKUs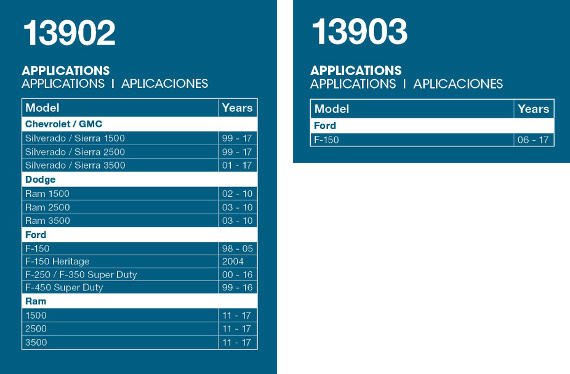 Eau Claire, WI -- March 28, 2017 -- CURT Manufacturing, the leading manufacturer of USA-made towing products, has developed the ultimate multi-fit trailer hitch option for our retail customers: the #13902 and #13903. Together, these two hitches fit nearly every full-size pickup from Chevy, Ford, GMC, Dodge and Ram from 1999 to 2017. That's 498 applications and counting!
These two CURT class 3 multi-fit trailer hitches were specifically designed with our retail customers in mind. For dealers who prefer the convenience of a universal hitch, the #13902 and #13903 allow you to provide a hitch for the majority of pickup truck owners who come into your shop. Rather than stocking hundreds of vehicle-specific hitches, all you need on the shelf are two boxes.
Both of these multi-fit trailer hitches are built to work hard, featuring a GTW rating of 8,000 lbs. and a WD rating of 12,000 lbs. They come with a durable powder coat finish, a limited lifetime warranty and informative, full-color retail packaging to attract customers and give your planograms a professional touch.
To see an installation video of the #13902 or to become a CURT dealer, click here.
---
About CURT Manufacturing: CURT Manufacturing is a family of more than 1,000 associates world-wide. We believe that the customer is KING and our associates are our greatest ASSET. With headquarters in Dallas, TX and Eau Claire, WI, our brands include CURT, ARIES Automotive, LUVERNE Truck Equipment and RETRAC Mirrors. With manufacturing plants in Eau Claire, WI; Brandon, SD and the Philippines, and 25 regional warehouses across North America and Canada, we are proud to offer our customers reliable service and dependable American-made towing products and truck accessories. For more information visit www.curtmfg.com.
< Back to News