New TruTrack WD Tops Weight Capacity at 15,000 lbs.
Advanced Design Built Around Integrated Sway Control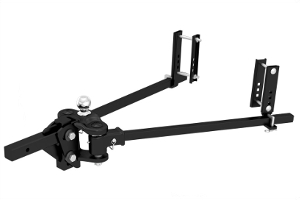 CURT Manufacturing, the leading manufacturer of USA-made towing products, has introduced a new, heavier-duty model of its advanced TruTrack™ weight distribution system. This new model features a 15K gross trailer weight capacity and is ideal for the largest of RV trailers and campers.
The CURT TruTrack™ weight distribution system is unique from all other weight distributing hitches and sway control products. It combines the functions of weight distribution and sway control into one product, providing the smoothest, safest towing possible and eliminating the need to buy an additional sway control. Unlike other WD hitches, the integrated sway control of the TruTrack™ WD system uses a spring & cam system and adjustable support brackets to keep the trailer better aligned with the tow vehicle. The system features hardened components to resist wear and remain quiet.
The original TruTrack™ #17500, introduced in 2014, offered a maximum weight capacity of 10,000 lbs. We have now added a new TruTrack™ model #17501 with the same advanced integrated sway control system and a higher weight capacity of 15,000 lbs. Like the 10K version, the 15K TruTrack™ also features hex castle nuts and two neutral spring bar settings to easily accommodate different trailers. It also comes with extended spring bars for larger trailers, a pre-torqued trailer ball, a durable carbide powder coat finish and a ten-year limited warranty.
Click here to learn more about the 15K TruTrack weight distribution system.
About CURT Manufacturing: CURT Manufacturing is a family of more than 1,000 associates world-wide. We believe that the customer is KING and our associates are our greatest ASSET. With headquarters in Dallas, TX and Eau Claire, WI, our brands include CURT, ARIES Automotive, LUVERNE Truck Equipment and RETRAC Mirrors. With manufacturing plants in Eau Claire, WI; Brandon, SD and the Philippines, and 25 regional warehouses across North America and Canada, we are proud to offer our customers reliable service and dependable American-made towing products and truck accessories. For more information visit www.curtmfg.com.

Media Contact:
Sarah Brandenburg
715.838.4048
< Back to News