CURT weight-distributing hitches come in two styles: round bar and trunnion bar. These refer to the types of spring bars used by each style. A round bar weight distribution hitch uses round spring bars attached to the underside of the WD hitch head, and a trunnion bar weight distribution hitch uses square bars mounted at the face of the hitch head. There is very little difference between the two in terms of weight capacity. However, trunnion bar WD hitches do sometimes offer slightly more ground clearance compared to round bar.
CURT weight distribution hitches feature heavy-duty hitch heads and forged steel spring bars; both of which are highly adjustable to achieve the exact weight distribution necessary. Our WD hitches come with 2" x 2" shanks to fit receiver-style trailer hitches of classes 3, 4 and 5 as well as some RV hitches. A weight distribution hitch cannot be used on trailer hitches of classes 1 or 2 because of their relatively low gross trailer weight capacity. If a weight distribution hitch were to be applied to a trailer with too little weight, the trailer would become too "stiff" for proper towing. Before purchasing a CURT weight distribution hitch, check to make sure your trailer hitch is compatible.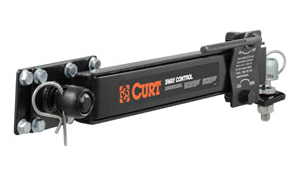 Sway Control
While weight distribution hitches are an effective solution for stabilizing and leveling out your towing rig, they can also be used, when coupled with the proper accessories, to prevent dangerous sway in your trailer. A CURT weight distribution hitch on its own should not be considered a sway control. However, when combined with a CURT sway control kit, the WD hitch maximizes its effectiveness in controlling sway. A CURT sway control bar and trailer ball can easily be attached using the provided sway control tab built into our weight distribution hitches, and certain models are available as a complete package, having a sway control unit included with the hitch.



For a unique weight distibuting option that combines both the weight distribution function and sway control, the CURT TruTrack™ is the hitch of choice. This advanced WD not only levels the tow vehicle and trailer, but it also uses an integrated sway control system to actively stop lateral trailer motion. Its spring & cam system and adjustable support brackets provide tension to resist sway and ensure a smoother, more comfortable ride. The TruTrack™ also installs more easily and is backed with a ten-year limited warranty.
To make sure our weight distribution hitches are worthy of carrying the CURT name, we coat each one in a durable powder coat finish, giving them great resilience to rust and scratching. Our weight distribution hitches are forged from quality steel and comprised of expertly engineered components. From the formed hitch head, to the spring bars, to the hookup brackets and even our replacement parts, we invest our utmost quality for your satisfaction.
< See Less