The CURT Q-series is a new breed of 5th wheel hitches that sets the bar higher, bringing better quality and fresh innovation to the towing world. As a member of the CURT Q-series, the Q20 5th wheel hitch is no exception. It is marked for its strength of design and towing finesse, rating in as one of the quietest fifth wheel hitches on the market. The Q20 is a perfect balance of power and control. It features a gross trailer weight capacity of up to 20,000 lbs. and can bear a vertical load limit of 5,000 lbs. It also has a set of dual-locking jaws, positioned within the hitch head to fully and firmly grasp the kingpin of your 5th wheel trailer and keep it locked in tight as you drive to your next destination.
See More >
Advantages of the Q20 5th Wheel Hitch
Spherical axial bearing allows
unimpeded head movement
Dual jaws provide
360° kingpin contact
Coupling indicator
visible from truck cab

The true secret, however, to the Q20's genius is the unique pivoting system of the hitch head. Rather than using a pair of axle rods to allow the head to tilt forward and backward and side to side, the Q20 uses a spherical axial bearing. This ball-like axle, positioned within the head, allows it to move in every direction necessary while towing. Not only does this create a smoother ride for both trailer and pickup, but it also makes the hitch much quieter. The spherical axial bearing, together with its strategically placed rubber stoppers, reduces chucking and popping noises during travel.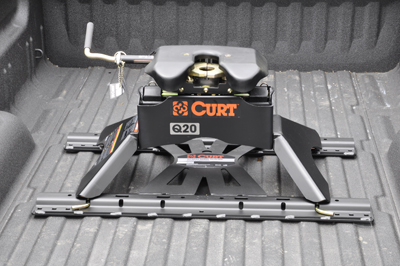 The CURT Q20 fifth wheel hitch also makes coupling and uncoupling your trailer easier. The Q20 comes with a self-aligning head and an extra wide head opening to actually increase your coupling area and compensate for errors when backing up to the kingpin. The integrated three-position coupling indicator, a signature mark of the Q-series, is directly connected to the coupling mechanism and tells you exactly when your trailer is coupled, uncoupled or ready to tow. The indicator is also visible from the truck cab, eliminating the need for you to get out of your truck to check the connection.
At CURT, we take our towing seriously because we know the value you place on the things you love to do. The CURT Q20 is available with a variety of mounting options, including 5th wheel legs, a 5th wheel roller, base rails, OEM Ford or RAM truck legs or as a standalone hitch head. All of our Q20 hitches are tested for safety and meet proposed SAE J2638 testing standards. We coat them in a durable carbide powder coat finish to resist rust, scratches and UV damage, and they are backed by a ten-year limited warranty.
< See Less