5th Wheel Bracket Kits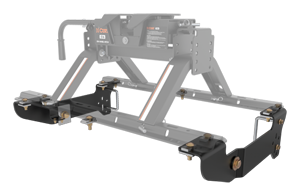 A truck that stands the test of time starts with a reliable frame. The same is true in 5th wheel towing. The key to any 5th wheel hitch's providing the towing power needed to haul that extra-large travel trailer is a solid set of 5th wheel installation brackets. At CURT, we provide two types of 5th wheel brackets to ensure you have the solution you need for your particular truck and your particular 5th wheel.
Custom Installation Brackets
CURT custom installation brackets are an all-in-one, custom-fit 5th wheel mounting option. Rather than being a one-size-fits-all part, a custom fifth wheel installation bracket contours to the frame of the vehicle and features special mounting points that work in conjunction with the truck's shape. Custom brackets do not require any additional hardware. They come with all the necessary parts you will need for the installation, such as bolts, washers and spacers, and provide a faster installation time compared to most 5th wheel installations. CURT custom 5th wheel installation brackets are designed to be used in combination with CURT universal base rails and feature a durable black powder coat finish to resist corrosion. They are available for several different vehicle makes and models, including Chevy, GMC, Dodge, RAM, Ford, Nissan and Toyota.
For Custom and Semi-Custom 5th Wheel Brackets, please see the CURT 5th Wheel Bracket Application Guide
See More >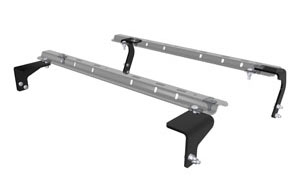 Semi-Custom Installation Brackets
CURT semi-custom installation brackets, though they are not the ideal mounting solution compared to our custom brackets, are a dependable option for your 5th wheel hitch. Semi-custom 5th wheel brackets are still a custom-fit option compared to universal installation brackets, allowing them to better contour to the frame of your truck and offer a sturdy foundation for your 5th wheel. However, semi-custom brackets are designed to be used in combination with universal installation kits. Semi-custom fifth wheel installation brackets are required on certain Dodge, Ram, Ford and Toyota pickup trucks if custom brackets are not used. CURT semi-custom installation brackets come with a durable black powder coat and all of the necessary components to supplement our universal 5th wheel rail kit.
< See Less