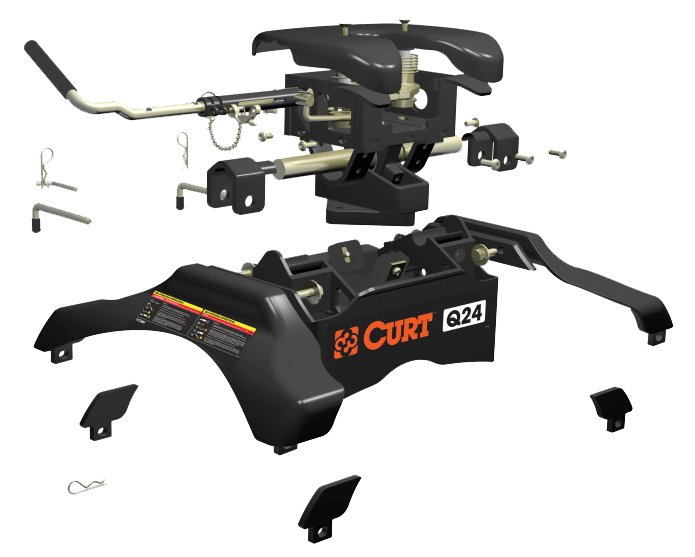 Whether you are towing your RV to the family campground or hauling machinery cross-country on your flatbed, 5th wheel trailers are built with a bigger lifestyle in mind. There is something deeply satisfying about hitching up your pickup and heading for the horizon with the rumble of the engine beneath you and the power of a fifth wheel trailer behind. But with greater power comes a greater need for heavy-duty equipment that can handle the job.
A 5th wheel trailer hitch is designed to mount into a pickup truck bed and receive a kingpin from a 5th wheel trailer. Much like the design of a semi truck, a 5th wheel hitch features a large, generally flat coupler head that latches onto the kingpin using a set of locking jaws. Being mounted in the back of a pickup, between the axles, this type of hitch can handle much more weight than a standard trailer hitch, up to 24,000 lbs. 5th wheel hitches also provide a wider turn radius and overall smoother ride. Though a 5th wheel takes up more room in the truck bed when installed, it mounts to the vehicle using a set of brackets and rails that allow the main 5th wheel assembly to be removed whenever necessary, without much effort.
See More >
CURT 5th wheel trailer hitches are built and tested to be highly functional, soundly constructed and safe to use. Like all CURT products, our 5th wheel hitches are put through strenuous testing to ensure they can perform at their listed capacities. We offer 5th wheel hitches and hitch brackets for nearly every make and model of appropriately sized vehicle and provide a number of accessories and adaptive products to make both your towing equipment and experience something you can take pride in.
CURT Q-SERIES
The CURT Q-series leads the way in our 5th wheel line, offering hitches that are high in towing capacity and low in noise and maintenance. Something that sets the Q-series apart from the competition is its spherical bearing. Most fifth wheel hitches today use a dual-pivoting head that allows for movement in four different directions. The CURT Q-series shatters that concept by utilizing a spherical bearing that allows the head to move in any direction necessary. Not only does this mean a smoother ride on the road, but it also allows for easier coupling and reduced noise while towing.
Advantages of the CURT Q-Series 5th Wheel Hitch:
| | | | | | | |
| --- | --- | --- | --- | --- | --- | --- |
| | | | | | | |
| Spherical bearing allows head to move in all directions | | | Extra wide head opening with dual jaws that wrap around the kingpin | | | Coupling indicators, visible from inside the cab, indicate coupling status |
CUSTOM AND SEMI-CUSTOM BRACKET KITS
CURT products are designed to make your towing experience easier, not more difficult. To achieve this goal, we have designed our 5th wheel installation kits to precisely fit the vehicle for which they were intended. When it comes to heavy-duty towing, we believe there is little room for the idea that "one size fits most". That is why CURT offers custom and semi-custom 5th wheel bracket kits to ensure that your vehicle receives a proper fit. Our custom 5th wheel brackets, like our trailer hitches, are engineered for specific makes and models. This provides an exact fit and faster installation time. Similarly, our semi-custom 5th wheel brackets are made to work in combination with our universal 5th wheel brackets to provide the right fit for your specific vehicle.
5TH WHEEL ROLLERS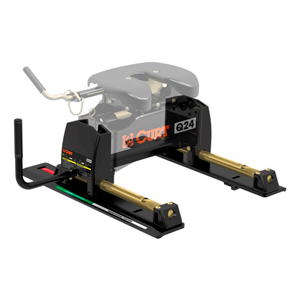 Another one of our goals at CURT is make sure we are offering you options and a line of products that is flexible enough to meet your needs. The CURT 5th wheel hitch rollers come in 16K, 20K and 24K gross trailer weight capacities. A 5th wheel roller mounts to your 5th wheel brackets, taking the place of 5th wheel legs. When a shorter truck bed or extended RV cab cover requires it, a 5th wheel roller allows the 5th wheel hitch to be moved back toward the rear axle to provide the additional space needed for turning. CURT 5th wheel rollers are true rolling units, not just sliders. They feature non-binding rods and can travel up to 12 inches instead of only 10 as is common. CURT 5th wheel rollers easily mount onto a set of industry-standard rails.
ACCESSORIES
Our line of 5th wheel accessories includes safety chain loops, lube plates, sound-dampening pads, pins, clips, and more. We have a number of adaptive parts, including 5th-wheel-to-gooseneck adapters, that allow you to maximize the potential of your 5th wheel installation by converting it into a gooseneck hitch whenever necessary. We also carry replacement parts for CURT 5th wheel hitches and brake controls for RVs, livestock trailers and other larger trailers.
Whether it is that dream trip you have been planning for a lifetime or just another weekend getaway, 5th wheel towing is a great way to explore the world around you and to remain comfortable while doing so. CURT is proud to offer 5th wheel towing products that exceed expectations and push the limits to help you Bring It®.
< See Less