Straps and Tie-Down Anchors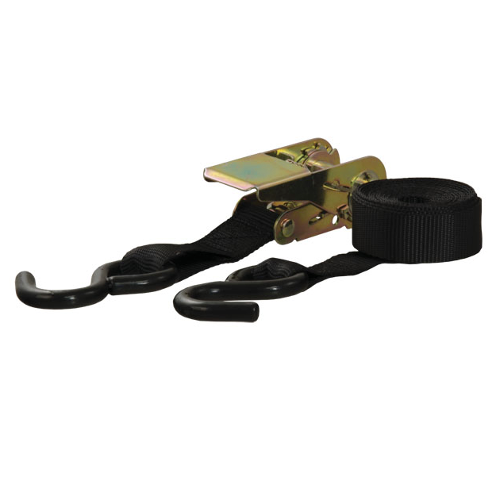 Making sure that your cargo is tied down and fully secure for the journey is important for any towing job. Not only is unsecured cargo a danger to you, your passengers and your fellow drivers, but it can also cause damage to your trailer, pickup truck bed or vehicle cargo area, as well as to the cargo itself. CURT offers a full line of cargo straps and tie-down anchors, including various sizes, capacities and styles to help keep your items safe for the road ahead.
CURT cargo straps are perfect for securing any type of cargo and offer more convenience and reliability compared to rope or bungee cords. We offer two types of straps: cambuckle and ratchet. Our cambuckle straps are excellent for securing light-duty loads while our ratchet straps are geared for heavy-duty items. Both cambuckle straps and ratchet straps are available in different lengths and quantities. We also offer different hook types, allowing you to choose the style that best fits your needs.
While our cargo straps are perfect for cinching down any and all types of cargo, they need a solid attachment point to get the job done right. Like our cargo straps, CURT tie-down anchors vary in size, capacity and design. We offer D-rings and rope rings in both a surface-mount style and a recessed mount, as well as fold-away rope hooks and weld-on rings. Our tie-down anchors range in capacity from 1,000 lbs. to 46,760 lbs., and we also offer various backing plates for increased mounting strength. CURT tie-down anchors are ideal for attaching our cargo straps and can also be used to anchor ropes, bungees, chains and cables. They can be mounted in any trailer, truck, full-size van or other vehicle where additional tie-down points are needed.
See More >