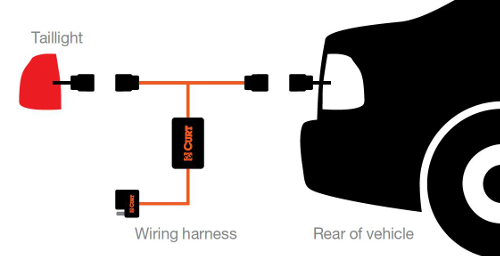 CURT custom wiring is the ideal solution if your vehicle is not setup with a trailer wiring connector. Custom wiring takes a vehicle-specific approach, using unique plugs and other electrical components to wire your vehicle for towing. The vehicle-specific plugs are designed to plug into pre-existing sockets built into your vehicle's electrical system, either at the taillights or using the factory tow plug. Custom wiring allows for fast, plug-and-play installation, and it ensures the best possible compatibility with your vehicle.
CURT offers two custom wiring options: custom wiring harnesses and custom wiring connectors. A custom wiring harness uses multiple vehicle-specific plugs and connects to the vehicle's electrical system through the taillights. On the other hand, a custom wiring connector uses only one vehicle-specific plug. This is because it is designed to plug into a factory tow plug, built into the vehicle by the manufacturer, specifically for the purpose of setting up trailer wiring.
See More >
Despite their basic installation differences, custom wiring harnesses and custom wiring connectors are fairly similar. Both feature an easy, plug-and-play design, and both typically provide a standard 4-way flat output. Also, both wiring options commonly integrate an electrical converter to translate the electrical signals of the vehicle to be compatible with trailer wiring.
To find custom wiring for your vehicle, simply look up your vehicle's year, make, model and style in CURT's Quick Vehicle Lookup tool, at the top of the page. Each CURT custom wiring harness and connector comes with the necessary electrical components to complete the installation, and many provide notes concerning proper installation practices. For peace of mind, most of our custom wiring line is made in the USA, and we back each device with a one-year warranty.
< See Less