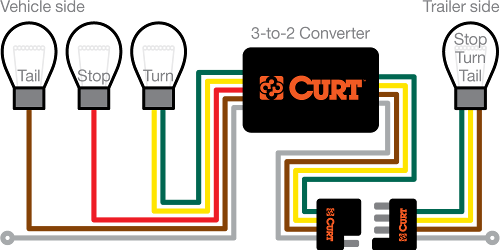 Though CURT custom wiring is the ideal solution for wiring your vehicle for towing, not all vehicles are compatible with one of our custom wiring harnesses or custom original equipment connectors. For such vehicles, we offer electrical converters. A converter is designed to splice into your vehicle's existing wiring and translate the electrical signals, providing a standard trailer wiring connector, usually in the form of a 4-way flat.
CURT 3-to-2-wire taillight converters are specifically designed for three-wire systems. A three-wire electrical system uses three separate wires to operate your vehicle's brake lights, turn signals and taillights. This system is the most common wiring system used in vehicles today. However, because most trailers operate on a two-wire system, a CURT 3-wire to 2-wire taillight converter is needed to allow the two systems to work together.
See More >
There are two types of 3-to-2-wire converters: powered and non-powered. Powered converters operate, using a direct connection to the vehicle's battery, while non-powered converters draw power through the taillights into which they are spliced. Most CURT converters use surface mount technology to reduce heat generation, maximize light intensity and improve durability. We also fully test each converter to ensure you are receiving a dependable product for your vehicle.
CURT converters are not designed to be universal, meaning they are not compatible with all vehicles. There is a specific set of applications for each unit. Before selecting a converter or any electrical component, such as a custom wiring harness or brake control harness, for your vehicle, use the CURT application guide to look up your year, make, model and style and find out which parts will fit.
< See Less