7-Way Connectors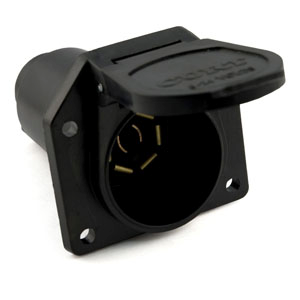 CURT 7-way connectors are designed to supply power to the trailer's taillights, turn signals, brake lights, electric trailer brakes, reverse lights, auxiliary power and ground connection. 7-way plugs and sockets are typically used on larger trailers, for heavy-duty towing, such as on gooseneck and 5th wheel trailers, as well as larger utility trailers and boat trailers. RVs and campers are one of the most common trailer types to use the 7-way connector.
CURT offers two standard types of 7-way plugs and sockets: 7-way round and 7-way RV blades. Though these appear to be very similar at first glance, there is a subtle difference in the connector format, and it is important to select the correct format for your own vehicle and trailer. If your trailer plug and vehicle socket are mismatched, CURT also offers electrical adapters.
CURT 7-way round connectors feature a durable, die-cast metal housing for long-lasting resistance to the elements. We offer both plugs and sockets, with our sockets featuring a spring-loaded dust cover. Like our 6-way round connectors, we also offer a 7-way round plug with a spring attachment option to provide more security for the wire connections.
CURT 7-way RV blade connectors are available in a die-cast metal construction or in a durable black plastic. Our 7-way RV blade sockets come with spring-loaded dust covers for excellent rust-resistance, and we also offer options with connector mounting brackets for easy installation on your vehicle. CURT 7-way RV blades are available as standalone vehicle-side sockets, standalone trailer-side plugs and in complete plug and socket kits.
See More >