4-Way Connectors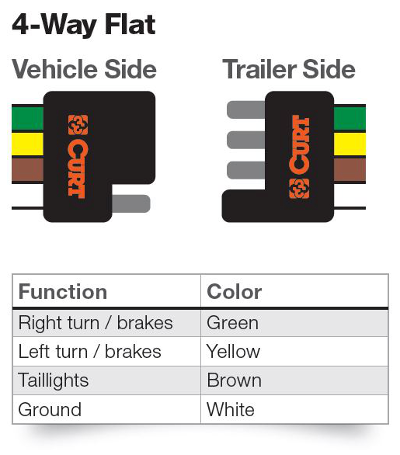 Commonly used for small boat trailers, utility trailers, popup campers and other basic trailers that don't have trailer brakes, 4-way wiring connectors use four wires to carry out essential lighting functions. These functions include turn signals, brake lights and taillights or running lights. Like other connectors, a 4-way connector also provides a wire for a ground connection.
ACURT 4-way connectors come in two formats: flat and round. Though they carry out identical electrical functions, flat and round connectors do have some differences. Each of our 4-way flat connectors comes with color-coded wires that are available in different lengths, from 12" to 240". They can be purchased as a standalone plug for the trailer, a standalone socket for the vehicle or as a complete loop with both the plug and socket included. CURT 4-way flats feature bonded wires for a reliable connection and have rubber-molded construction to protect against the elements.
Our 4-way round connectors, on the other hand, do not typically come with wires included, though complete kits are available. 4-way round connectors come with die-cast metal construction and concealed terminals to promote a long-lasting connection. Our 4-way round vehicle-side sockets also come with a spring-loaded dust cover for even greater protection against rust, dirt and moisture. 4-way round connectors are available as a standalone plug, a standalone socket or as a set of both.
See More >