4-Way Electrical Adapters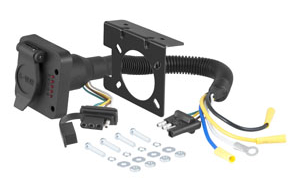 One of the most common types of trailer wiring connectors is the 4-way connector. However, just because a large number of vehicles are equipped with a 4-way socket, doesn't mean most trailers are equipped with a matching 4-way plug. In fact, there are several different types of trailer wiring plugs, and unless you've outfitted your vehicle for a specific trailer, you may need a CURT electrical adapter to properly hook up your trailer lights.
CURT 4-way adapters come in two basic formats, including 4-way flat and 4-way round. An electrical adapter is always classified by its vehicle-side connection, meaning the type of socket your vehicle has will determine the type of adapter you will need. CURT 4-way flat adapters are available to adapt a 4-way flat vehicle socket to a 6-way round, 7-way round, 7-way RV blade or 7-way USCAR connector. We also offer 4-way flat adapters that integrate a backup alarm and connection tester, as well as dual-output adapters to accommodate more than one plug type. Similarly, our 4-way round adapters plug into a 4-way round vehicle socket and adapter for a 4-way flat plug.
CURT 4-way electrical adapters are constructed to be plug-and-play and long-lasting. We offer durable plastic adapters as well as die-cast metal adapters with spring-loaded dust covers. Though all CURT adapters are ultimately designed for ease of use, some do require splice-in connections, specifically those that adapt to a larger plug type such as a 4-way to a 7-way. CURT adapters come with all necessary installation hardware, and many include a connector mounting bracket for easy mounting on your trailer hitch or vehicle frame.
See More >