6-Way Connectors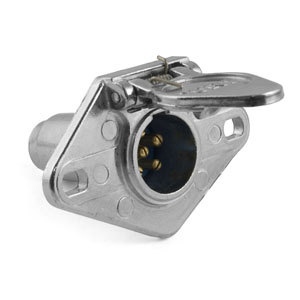 CURT 6-way connectors are commonly found on gooseneck trailers but are also used on everything from utility trailers and boat trailers to campers and 5th wheels. In addition to the basic lighting functions of running lights, brake lights, turn signals and a ground wire, a 6-way connector provides one wire for trailer brakes and one wire for a battery connection. This allows a brake controller to be installed and used by the driver and provides a connection between the vehicle's power supply and a 12-volt battery for a breakaway kit or other auxiliary power source.
CURT 6-way connectors are available in two formats, including square and the more common round. Both carry out identical electrical functions. Our 6-way square connectors are constructed with durable molded rubber and come with color-coded wires for easy splicing. They are available as a standalone plug, standalone socket or as a complete loop.
Our 6-way round connectors feature die-cast metal or plastic construction. The vehicle-end sockets feature spring-loaded dust caps to easily protect the wire connections, and we also offer a 6-way round plug with a spring attachment for increased wire protection. CURT 6-way round connectors are available as standalone plugs, standalone sockets or in plug and socket combinations, with complete kits available.
See More >