Brake Control Harnesses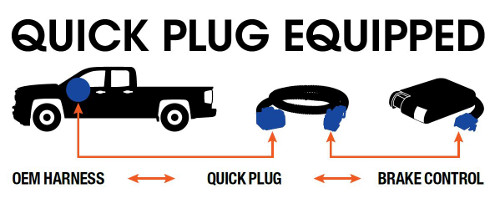 When towing a heavy trailer with your full-size pickup truck or SUV, you want a brake control you can depend on for quick, efficient stops. Play it safe when you tow and give your trailer brakes the control they need with a CURT trailer brake controller and brake control harness.
CURT quick plug brake control harnesses make the installation of your brake controller literally a snap! They are designed to allow your brake control to plug directly into your vehicle's power system using an original equipment connector. They are equipped with two plugs: one that snaps into your vehicle's original equipment socket and the other that connects to any CURT brake controller, including Venturer, Discovery, Reflex and TriFlex. CURT quick plug harnesses install in less than 10 minutes to get you setup and on your way with time to spare. They include two feet of wire and a slit loom sleeve to keep wires well protected and contained.
When a CURT quick plug harness is not a compatible option for your vehicle, we offer a brake control harness with pigtails to splice into your vehicle's electrical system. These harnesses feature a quick plug end to easily snap into your CURT brake control and colored wires to coordinate with each electrical function. Splice-in harnesses are available with a protective slit loom sleeve or with loose wires, and can easily be installed using CURT snap locks.
To find the right CURT brake control harness for your vehicle, please see our brake control harness application guide.
See More >