CURT ball mounts with 2 1/2" x 2 1/2" shanks are a breed of their own, having a strength reserved for the largest of trailers and the heaviest of tow loads. These oversized stingers are engineered specifically to manage the high demands of towing trailers such as dump trailers, toy haulers, livestock trailers, large utility trailers, deluxe RVs and extra-large boats. They are the go-to ball mount for all manner of heavy-duty towing applications, from hauling equipment around the farm to carrying materials out to the construction site. Just like our 1 1/4" and 2" ball mounts, we make our 2 1/2" ball mounts with high-quality steel and put them through strenuous testing to ensure they are able to perform at their listed capacities.
See More >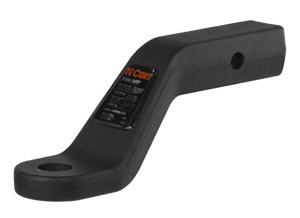 Commercial-Duty Forged Ball Mounts
CURT commercial-duty ball mounts are forged with one-piece steel construction for unmatched strength and are able to handle a gross trailer weight up to 20,000 lbs. This makes them the perfect extension of your class 5 Commercial Duty or Commercial Duty+ trailer hitch. They are also strong enough to manage an extra-high tongue weight of up to 2,700 lbs. CURT commercial-duty forged ball mounts come with a durable black carbide powder coat finish and can accept a trailer ball with a 1 1/4" shank diameter.






Welded Ball Mounts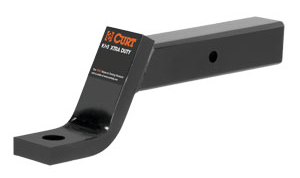 Robotically welded together and constructed from CNC-formed steel, CURT welded ball mounts are another heavy-duty option for your class 5 hitch. Welded ball mounts offer a slightly lower gross trailer weight capacity compared to our commercial-duty forged ball mounts, rating in at 15,000 lbs. They are available in lengths from 9 1/2" to 10 1/2" and are offered with as much drop as 8" and as much rise as 6 1/4". CURT welded ball mounts also come in our gloss black powder coat finish for long-lasting resistance to wear and the elements.
< See Less