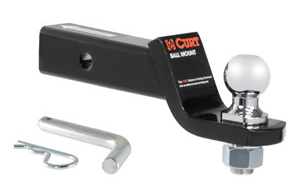 Basic 2" x 2" Ball Mounts
Our basic 2" ball mounts, such as our class 3 and loaded ball mounts, are the perfect complement to your class 3 trailer hitch, having comparable weight ratings between 3,500 and 7,500 lbs. CURT class 3 ball mounts are able to accept a trailer ball with a 1" shank diameter, while our loaded ball mounts come with a trailer ball already attached and fully torqued to the necessary specification. Similarly, to give you a complete ball mount package, we offer towing starter kits that include a ball mount, trailer ball, hitch lock, hitch tube cover and a pin and clip, depending on the model. CURT class 3 ball mounts and loaded ball mounts are available in a variety of lengths and in different drop/rise options.

Heavy-Duty 2" x 2" Ball Mounts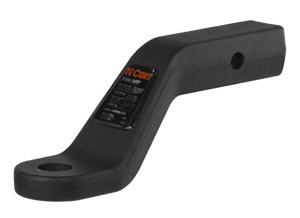 For a little extra towing power to manage larger loads and heavier trailers, CURT has heavy-duty and forged ball mounts. Like our class 3s, these heavy hitters feature a standard ball mount design. They come ready to accept a trailer ball with a 1 1/4" shank diameter and are excellent for all manner of heavy-duty towing with your class 4 or class 5 Xtra Duty trailer hitch. CURT heavy-duty ball mounts range in maximum weight capacity from 10,000 to 12,000 lbs., while our forged ball mounts allow for up to 17,000 lbs. Both can be purchased in various lengths and with different amounts of drop and rise. Forged ball mounts are also available as loaded ball mounts, having a trailer ball pre-attached and factory-torqued.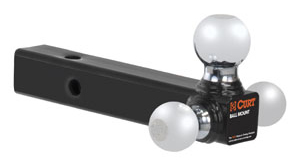 2" x 2" Ball Mounts with Extra Features
To help improve your towing experience, whether by speeding up installation or offering more options for your vehicle or trailer, CURT has a number of 2" ball mounts with special features. The CURT right angle ball mount makes hitching up your trailer a breeze with its uniquely shaped shank that easily inserts into a receiver tube opening. Our multi-ball ball mounts and adjustable ball mounts allow you to tow different types of trailers without needing to change ball mounts, accommodating different coupler heights and sizes. Along the same lines, our dual-length ball mounts make adjusting the position of your trailer ball easy to give your vehicle and trailer extra clearance.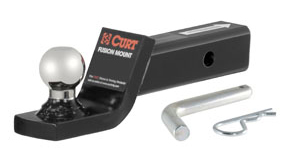 Another option in our 2" ball mount line is CURT Fusion mounts. Like our Euro Mount® ball mounts that are available with a 1 1/4" x 1 1/4" shank, Fusion ball mounts feature a fixed trailer ball. This increases the security of your towing setup by preventing any loosening or theft of the tow ball. CURT Fusion ball mounts come with a strong welded construction and range in towing capacity from 5,000 to 7,500 lbs.

Specialty 2" x 2" Ball Mounts
Some of our other unique 2" ball mounts include our specialty ball mounts. With everything from forged tow hooks to dual receiver extenders, CURT specialty ball mounts are intended to meet the unique needs of specialized towing. Our tow hook ball mounts are perfect for recovery towing and straight towing applications. They can be used for either your vehicle or for an ATV. CURT receiver extenders and adapters allow you to maximize the usefulness of your trailer hitch by making it possible to tow a trailer and cargo carrier or bike rack at the same time. For maximizing safety on the road, our sway tab ball mount provides the option to add a sway control hitch ball and sway control unit to your rig with ease.


Whether you are towing for the first time or have been hitching up your trailer for years, always know that you have options. CURT's diverse line of 2" ball mounts is intended to let you make the most out of your trailer hitch and tow vehicle, giving you the power to choose the road ahead.
< See Less