CURT 1 1/4" x 1 1/4" ball mounts may be our lightest-duty ball mount option, but these stingers are anything but delicate. We manufacture our ball mounts to be durable and a perfect fit for the task to which they are assigned. Our welded 1 1/4" ball mounts, including both classes 1 and 2, are constructed from pure steel and welded together using robotic processes for the utmost accuracy. Having a ball mount with a shank that is precisely made for an exact fit means less wiggle room in the receiver and a quieter, safer ride overall. CURT 1 1/4" ball mounts are also coated in a durable powder coat finish to guard them against the wear and tear of the hard miles ahead. They range in gross trailer weight capacity from 2,000 up to 3,500 lbs. and are generally fit for towing most light-duty trailers such as utility trailers, pop-up campers, boat trailers and more. For your car, minivan or crossover SUV, a CURT 1 1/4" x 1 1/4" ball mount is the perfect complement, fitting in any class 1 or class 2 trailer hitch.
See More >
Class 1 Ball Mounts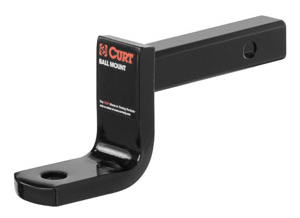 Offering a weight capacity of up to 2,000 lbs. and a maximum tongue weight capacity of 200 lbs., class 1 ball mounts are versatile within any light-duty towing application. We carry a number of length options and rise/drop options to accommodate your specific trailer type. The length of our class 1 ball mounts ranges from a little under 6" to over 11 1/2". Likewise, we have ball mounts with as much drop as 6" and as much rise as 5". All CURT class 1 ball mounts come with a high-gloss black powder coat finish and a 3/4" trailer ball hole.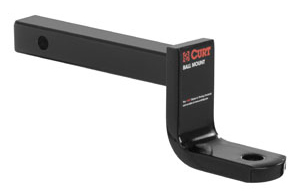 Class 2 Ball Mounts
Class 2 ball mounts are rated to tow up 3,500 lbs. of gross trailer weight and can accept up to 350 lbs. of tongue weight, making them a slightly heavier-duty ball mount option compared to class 1. A variety of lengths are available for CURT class 2 ball mounts, ranging from 6 1/4" to a little over 11 1/2". To ensure you are able to tow with a level trailer, we also offer several different drop and rise options, ranging from 1" to 3 1/4" of drop and 3/8" to 5" of rise. Like class 1, our class 2 ball mounts are coated in high-gloss black and have a 3/4" hole to accept a trailer ball.



Euro Mount® Ball Mounts
Something totally unique to the CURT ball mount lineup is our patented Euro Mount® ball mounts. CURT Euro Mounts® are designed to be a reinvention of the old-style ball mount, making it stronger, more secure and easier to use. They feature a fixed ball for better security and a sleek European design. Every CURT Euro Mount® is rated to tow up to 3,500 lbs. of gross trailer weight and 350 lbs. of tongue weight. We have lengths ranging from 7 1/4" to 11 1/4" and ball height options from 3/4" of drop to 5 1/8" of rise. As a bonus, to make sure our Euro Mount® ball mounts are capable of withstanding any towing obstacle, they come coated in a highly durable black carbide powder coat finish for the best possible protection.

< See Less