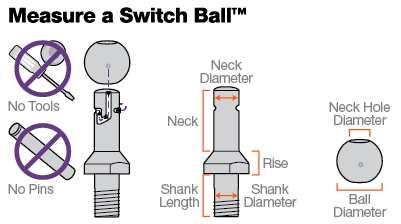 Frequently towing different types of trailers can be a hassle. Even switching back and forth between two trailers with different coupler sizes can be time-consuming and bothersome. At CURT, we knew there had to be a better way, so we developed the Switch Ball™ trailer ball.

As the ultimate in towing versatility, the CURT Switch Ball™ is a trailer ball that provides different ball sizes on the same shank. Similar to our multi-ball and multipurpose ball mounts, the Switch Ball™ is designed to make towing easier. Instead of having multiple trailer balls attached to a ball mount shank, the Switch Ball™ is a single trailer ball shank that attaches to a regular ball mount and allows for different trailer ball diameters to be used on the shank. The secret of the Switch Ball™ is its innovative J-groove. This exclusive trailer ball design features a groove, shaped like a "J", cut into the shank. With a simple press of your hand and a twist, the special trailer ball can be installed and is immediately ready for towing. The Switch Ball™ requires no tools and no pins for switching ball sizes. Because of the J-shaped groove, the trailer ball stays firmly attached to the shank and securely engaged to the trailer coupler during travel. The Switch Ball™ is designed so that the weight of the coupler and trailer is resting on the shank, taking stress off the trailer ball itself and freeing the coupler from friction and binding. This provides an overall safer ride and smoother towing.
See More >
CURT Switch Ball™ trailer balls come in various package options and, depending on the ball diameter, are equipped with towing capacities of 3,500 lbs., 6,000 lbs. and 8,000 lbs. We create our Switch Balls™ from premium grade steel and coat each one in a nickel-chrome plating to ensure long life and fluid operation that is free from rust and corrosion. CURT Switch Balls™ are U.S. and Canadian-patented and are independently tested to SAE J684 testing standards to be proven safe.
< See Less