It doesn't get much better (or more redneck) than a truck and tractor pull on Saturday night. Off a county highway, on the edge of a corn field in rural Wisconsin, folks gathered, the Miller Lite flowed and the tractors roared good 'n' loud as the second day of the annual Sturgeon Fest in Jim Falls came to a climactic close. Among the various music acts, demolition derbies and the ongoing fishing contest, the truck and tractor pull was one of the highlights of the weekend.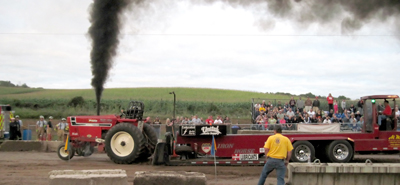 I've been to a few demolition derbies, stock car races and a couple tractor pulls, but I wouldn't say I'm an expert. Even so, I love going to these types of events once in a while and seeing machinery and vehicles pushed to their limits. At Sturgeon Fest this year, the classes of competition were hot farm tractors, street-legal diesels and 6200# super stock pickups. I'd seen the hot farm class before, but the pickup trucks were new to me. You'd think by the end of the night, after twenty or so tractors and trucks went tearing down the same track, pulling the same weight and reaching about the same spot every time, it would get a little boring. But there's something about it that makes each run more exciting than the last.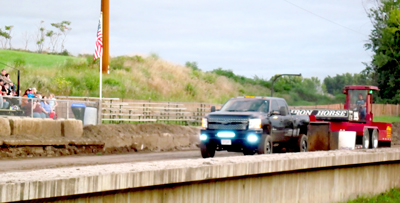 My favorite class was probably the 6,200-lb. super stocks. These older pickups were painted in flashy colors and had names like "Whiplash" and "Aftershock". With 6200# being a new to me, there were a few things I learned that I'd like to share. You might find it interesting.
First, I learned that 6,200-lb. super stock pickups are loud! They're driven by engines that have 1,000 horsepower or better and are gutted out to the point that they're little more than an engine and four wheels. At least that's the way they sounded. If you ever go to see a 6,200-lb. super stock pull, bring earplugs. You can thank me in the comments below.
The next thing I learned was that these pickup trucks run hot. Saturday was a fairly humid night but not cold by any means (especially Wisconsin standards). But with the amount of moisture in the air and the amount of heat generated by the engine, the windshield would actually fog up as each truck prepared for its pull. Right before starting off, the driver would wipe off a spot on the windshield and hope it didn't fog up again before he got to the end of his run. It certainly added an extra thrill to the whole thing.

Finally, I learned that a lot of 6,200-lb. trucks don't have driver side and passenger side seats. That is to say, most trucks are customized with a single seat right in the middle of the cab. Odd as that may sound, the drivers actually prefer it this way because it allows them to have a better view of the track and keep their trucks straighter as they drive. This is apparently a common practice, although after searching through some of the Youtube videos, there seems to be a good mix. I suppose if you have a pair of stacks sticking out of your hood on either side, it would pay to be able to see between them.
Obviously, tractor pulling is not everyone's sport. Some might not even call it a sport at all. My guess, though, is that a lot of people who say they don't like it have never been in the stands. If they were there to hear the engine roaring, see the dirt flying and smell the smoke pouring from the exhaust pipe, I'm betting they would think differently. Like Blake Shelton said, we've all got a hillbilly bone down deep inside.