Getting Perspective at the Indianhead Car Show
Posted in: Motorsports
If you've never been to a classic car show, I can assure you you're missing out on a great experience. You don't have to be all that interested in classic cars or even cars in general to enjoy yourself. Let me put it this way: when you're out there, surrounded by hundreds of these sophisticated machines that have been restored to the same glory that helped define the decades of our past and you hear the deep guttural rumble of an old engine starting up, you feel a connection. It's a little like you've entered a time machine, as the cliché goes, but it's more that you gain a sense of appreciation for what people are capable of, what they can think up and build. Plus, the delicious fried food that invariably accompanies an event of this sort doesn't hurt either.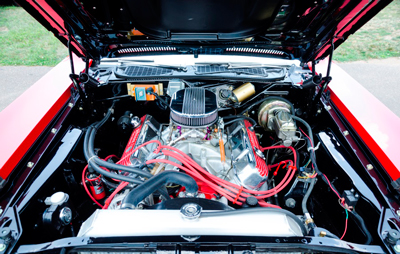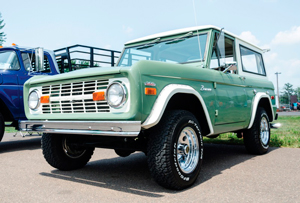 This past weekend, my wife and I attended the 40th Annual Indianhead Swap Meet and Car Show held in Chippewa Falls, WI, at the Northern Wisconsin State Fairgrounds. This being the 40th annual, I have no doubts that it drew a larger crowd than previous years, and because it was a swap meet, anyone could bring his or her car to sell or trade. And, man, were there a lot of cars! Wandering up and down what seemed like endless rows, we saw everything from 1920s Model As to Ford pickup trucks from the current millennium, and everything in between. There were plenty of Ford Mustangs, Chevrolet Corvettes and Pontiac GTOs from pretty much every year imaginable, and there were a few unique models that I'd never even heard of before. One of my favorite automobiles that we saw was a 1970 Ford Bronco. It seems like they just don't make trucks like this anymore. The owner had gone with a classic gloss green and white trim and was sporting the hard top. In my opinion, the hard top is what really makes the Bronco look unique; maybe I'm alone in that opinion. Either way, this one was a beauty. If ever I buy a classic vehicle to restore, it will be a Ford Bronco from the 70s.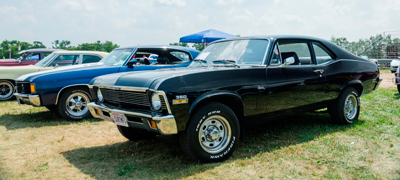 Another one of my favorites was a 1971 Chevrolet Nova in high-gloss black. It had been awhile since I saw one. Growing up, my cousin had spent years restoring a 70s Nova, and it was fun to reminisce about the times we went cruising around. If there's one car that embodies the age of the American muscle car, it's certainly not the Chevy Nova, but the Nova is probably as close as any compact will ever get. I think the '70 Chevelle is probably my favorite car from that era… or the '69 Camero. (Actually, I would love to hear your opinion on this. Which car is THE American muscle car? Let me know in the comments below.)
One of the most interesting cars we saw was a '57 Bel Air wagon painted classic red and jacked up on wide rims and a beam axle like an old gasser hot rod. Oddly enough, when we saw it, it was towing a trailer with an old 1932 DeSoto – not something you see every day but certainly not out of the realm of possibilities at a classic car show. When we got to talking to the owner, he told us about the custom work he'd done on his Bel Air. He said the car had been cut in half, right down the middle, and widened out several inches. Why, you ask? The only answer I can think of is: Why not?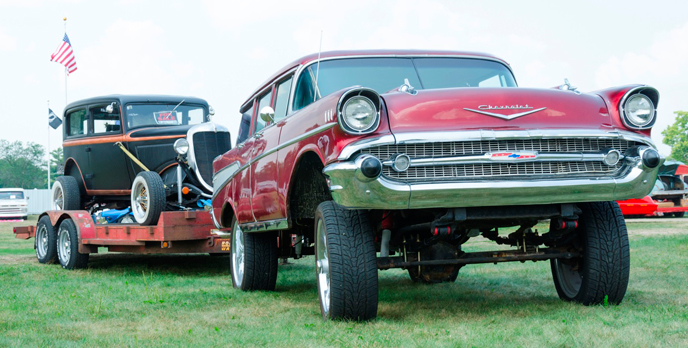 It's funny how much vehicles have changed over the years and how far back the auto industry reaches. As we perused the various antique models this weekend, I caught myself looking at classics from the 70s and thinking they didn't look all that old. I had to remind myself that 1970 was nearly 50 years ago! As things change from year to year and cars continue to morph from one form to another, I think it's good to look back every now and then and see where we've been. It gives you a better appreciation for a time gone by.